Good Times/Universal/1992/108m/WS 2.35
It happens every Spring. Hundreds of major leaguers saunter out onto baseball diamonds across America to begin another season of playing in "The Show," better known as the major league. For a few big league ballplayers, usually in the twilight of their careers, a chance to extend their playing days awaits them in the Japanese baseball league. Mr. Baseball is one of those fish out of water that thoroughly succeeds on a number of levels.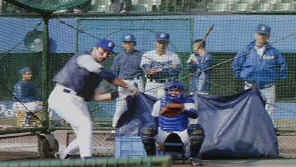 Elliot powders one in practice. ŠUniversal
Chief amongst Mr. Baseball's assets is another fine, under-appreciated, performance by Tom Selleck. Ironically, it was Selleck's likable screen persona that originally made for a significant obstacle in my enjoyment of the film. Selleck portrays an aging Yankee baseball star who is callously and humorously dealt to the Chunichi Dragons of the Japanese baseball league. Selleck's Jack Elliot is initially cynical and acerbic and not really likable, thus going against the grain of what an audience has come to expect of the actor. There may be too many inconsistencies in Elliot to thoroughly believe the least attractive aspects of his character, however, once that obstacle is broached, the film works beautifully.
Mr. Baseball is very insightful into Japanese culture that are not always easy for the Western observer to understand. The message, humorously put forth by the film, is that the way to understanding is through learning from each other. It is only by taking the best each has to offer that both the Chunichi Dragons and Jack Elliot succeed.
Ken Takakura provides an excellent foil for Selleck's loud baseball star. Genuine affection and respect for each other develops out of the action of the film. Aya Takanashi is the beautiful love interest for Selleck. Yoji Nishimura is very funny and charming as Elliot's interpreter.
Australian Fred Schepisi has directed the film with the savvy sense of an outsider. When the film threatens to go too far toward broad comedy, Schepisi tightens the reigns. His view of the contrasting cultures is outstanding.
Mr. Baseball looks very good when it isn't trying to navigate the difficult waters of an NTSC decoder. It appears this DVD is from a composite transfer and straight edge fine details are prone to aliasing and inter-line flicker. There was some cross color artifacts evident as well. On the plus side, there is virtually no edge enhancement to exacerbate straight edges. Colors are strong and flesh tones very natural. Subtitles are used to translate much of the Japanese dialogue, though there were a couple of instances when Japanese players spoke English and subtitles appeared anyway. The surround sound captures the ambiance of the ball park beautifully.
Fred and Ginger tapped their way into the hearts of movie fans everywhere. Gotta Dance takes a look at some of those dance movies that gifted audiences toe-tapping pleasure. Click on the image to get in on the beat.
---


They may be judgmental, but that's the point, isn't it. Lots of DVD reviews plus news and more.


Click on the link to visit the judge's chambers.
---

DVD Informix is a British site providing a variety of DVD information, including lots of DVD software. Check it out from articles to links.
---

Don May gets his say. The president of Synapse Films and former partner in Elite Entertainment, knows his way around horror. He talks about transferring DVDs and making his product special to DVD Unleashed.
---
Choko Movie Posters
The popular Paris movie poster store makes it's way to the Internet with an outstanding selection of French Movie Posters. Many beautiful images on display in a searchable data base.

The Movie Poster Archive include extensive poster images from the films of stars like Susan Hayward, Kirk Douglas, Katharine Hepburn and many more. This month's featured star is Burt Lancaster.