A pair New York City's finest travel to Osaka, Japan to turn over a Yakuza prisoner to Japanese authorities only they lose him before the exchange is made. Great concept turned into great entertainment under the slick baton of director Ridley Scott.
Clash of cultures and values is explored as an important textural element in Black Rain. New York cops look at graft and corruption as the norm while the Tokyo counterparts are appalled by it. Even the local Yakuza chief finds that American values have corrupted Japanese society. The formal rhythms of a Japanese police inspection are contrasted against the impulsive New York cops Working against the grain on unfamiliar turf.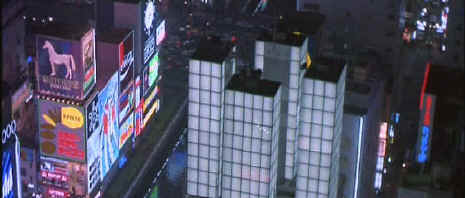 An Osaka cityscape reminiscent of Blade RunneręParamount
Black Rain explodes with action and takes the time to develop character. It's a rare combination. Even the cityscape of Osaka is given a chance at developing it's own identity. It's easy to dismiss Black Rain as an exercise is slick movie making, but it's really a very layered film that offers content between the raindrops.
Michael Douglas plays rough well in Wall Street suit or blue collar. Douglas lets five o'clock shadow cast a worn look over his continence. His diction is edged with a harshness that effectively captures the pragmatic cop Nick Conklin. Andy Garcia is given a wonderful opportunity to shine in the role of Nick's partner Charlie Vincent . This is one of the only times I have seen Garcia let go with an exuberance that seems totally natural on screen. He lost that innocent glow as the importance of the roles grew. Too bad Andy. Ken Takakura is commendably stoic as Matsumoto lending perfect balance to Douglas and Garcia. And dig that thick delivery of Tomisaburo Wakayama as Sugai, one of the Oyabuns or family heads of the Japanese Mafia. It's reminiscent of Brando in The Godfather. Sugai is one dangerous dude.
Yes, Scott does know his way around those night time skylines. The exquisite glitz that defined Blade Runner is alive and well in Black Rain. This widescreen DVD delivers the varied lighting schemes of Black Rain for maximum effect. The grit versus the glitz of New York City and Osaka is replicated admirably. The image is consistently sharp with few enhancement artifacts disturbing the grand vision. Black Rain has an excellent score by Hans Zimmer which sounds terrific on this Dolby Digital 5:1 DVD. Surround information is not aggressive, but ambiance is maintained meticulously.