Freshman.The/A-,A-

Columbia/1990/103m/ANA,WS1.85,PS1.33

Welcome to the outrageously wacky world of writer/director Andrew Bergman. When Bergman lets his imagination take off in the most improbable directions, the result is unbridled hilarity, like The Freshman.
In a wonderful introductory sequence, Clark Kellogg gets a marvelously unceremonious welcome to the big city by Victor Ray. Kellogg, freshly off to film school, trips over a derelict on the steps of Penn Station and has the ill fortune of encountering Ray's helping hand. Ray, playing on Kellogg's obvious wide-eyed innocence, offers him a limousine ride to his destination when Kellogg asks for directions to the subway. The great baptismal makes all the action that follows possible, and audiences will be grateful for Kellogg's missed step.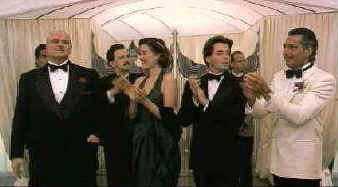 All dressed up and ready to kill. ©Columbia Tristar
After a short, entertaining, street chase, Ray introduces Kellogg to his uncle, a Mafioso big wig named Carmine Sabatini who just happens to resemble Marlon Brando in The Godfather. There's a lot of wonderful humor based on the audience's knowledge of The Godfather, and with Brando playing the Sabatini(A delightful spoof of his Godfather role.) to Kellogg's innocent, the humor quotient is escalated to the next level. Credit Brando for keeping a straight face.
I can't think of too many writers with the audacity to base so much of the screenplay on the delights of rare cuisine. To be sure, Bergman is not afraid of the slapstick. The chase through the mall with Clark and a very funny Frank Whaley as Steve, his roommate, in hot pursuit of a cold blooded creature is a joy. And Bert Parks singing an introduction to that very special meal, while funny, only achieves its level of hilarity knowing that Parks is doing a sends up of all his hosting chores at the Miss America Pageant.
The Freshman provides Matthew Broderick with a fine showcase for his comic talent. Along with a wry Brando, Bruno Kirby milks miles of mischief out of Victor Ray and Penelope Ann Miller is pleasantly goofy as Sabatini's sex hungry daughter.
Given Columbia Tristar's typically outstanding treatment, The Freshman is another smashing DVD. The anamorphic transfer has been turned into a crisply imaged DVD with strong accurate colors throughout. Bergman's high key cinematic palette is served well by the DVD medium. The dialogue is delivered cleanly if you can catch every line over your own laughter. The Dolby Digital 2-channel sound serves The Freshman well.


Lady Eve, The (SE) A,C+



Wonderful classic comedy from writer/director Preston Sturges. Henry Fonda and Barbara Stanwyck star.



The major studio vaults are filled with incredible film treasures which few have seen the light of DVD.
Open the Vaults



Selections from the Feature Archive include articles on Akira Kurosawa, Blonde Bimbos, Frank Darabont, Steven Culp, John Herzfeld or Vietnam: The Hollywood Pariah, and many more....
Director Walks the Wire


Balanced by an armor of movie lore and filmmaking daring, director John Herzfeld is comfortable walking the high wire. Check out this interview by Stu Kobak.


The Movie Poster Archive includes extensive poster images from the films of stars like Susan Hayward, Kirk Douglas, Katharine Hepburn and many more. Our featured star is Doris Day.