C,C+Firm, The/B+,B+
Paramount/1993/154/ANA 1.85
There are so many terrific actors working the celluloid in supporting roles in this first adaptation of a John Grisham legal novel, they almost overpower the stars. Tom Cruise supplies the glamour in The Firm as innocent lawyer Mitch McDeere sucked into a web of legal vipers on his graduation from Harvard Law School. When Mitch gets the overly-generous offer from Bendini, Lambert, & Locke, he practically jumps into a Risky Business dance rendition. This number five in his graduating class is so bowled over by the Memphis bucks and perks thrown his way, he's ready to take up residence in a city decidedly short of his most grounded desires.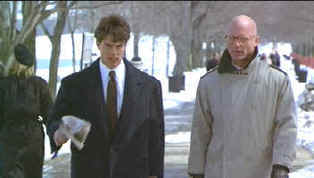 McDeere gets the prod from Agent Tarrance. ©Paramount
There are gaps in the solid plotting, mostly personal relationships, that take a back door to the legal mystery unfolding with rapid fire documentation. Before you know it, government agents have approached McDeere, a couple of lawyers are blown away in the Caymans, and mentor Avery Tolar practically has his tongue hanging out for Mitch's attractive young wife Abby. If Tolar was the devil in this one he could be making serious whoopee with Abby, but he's just a plain old charming advocate leading the high life of frustrated dissipated genius.
Tom Cruise is fresh-faced, hungry and energetic as Mitch McDeere. You can really believe Cruise is this role. He's up to the all the physical stuff and he's quick as a legal lizard in laying on the dialogue. Oddly enough, the romantic chemistry between Cruise and Jeanne Tripplehorn who plays Abby doesn't have the spark to ignite a pile of movie twigs. But that's happily not the most important aspect of The Firm. And you have to just relish Gene Hackman. Every time he;s on the screen the camera revs up. Hackman is merely miraculous in the role of Avery Tolar, the slick but engaging lawyer assigned as Mitch's firm mentor. Hackman is so engaging he almost overpowers Cruise's bright and shiny new star luster.
Citing the supporting actors is a movie lovers pleasure. In a tiny role, Gary Busey broadens the screen with grand gestures as private investigator . David Strathairn as Ray McDeere, provides enigmatic perfection as Mitch's older brother and Ed Harris, the frustrated federal agent breathing down Mitch's britches is arrogant and pleasingly impatient. Hal Holbrook gives Bendini, Lambert and Locke a measure of importance with his graceful delivery and flowing white locks while Wilfred Brimley is surprisingly sinister as Bendini's security chief.
This is probably the best of the Grisham novels to make it to the screen. The plot complexities that hang on the legal system work well, and director Sydney Pollack is masterful in pacing the action with veteran timing.
Pristine elements make it much easier to produce glossy and snappy DVDs like The Firm. Some scenes appear very slightly edge enhanced, but it is barely noticeable. Overall, the DVD delivers consistently sharp images with discernable background detail. The colors are alive and skin tones are comfortably varied. The steel gloss of the city and the party lights of the Caymans are produced with equal luster. Dave Grushin's excellent score sounds terrific on this Dolby Digital 5:1 mix. Dialogue is delivered with clarity and ambient surrounding are convincing.


Why do Al Pacino, Gene Hackman, Pat O'Brien and Goldie Hawn fall into a select group of actors? Find out more by clicking the Hollywood on the Sidelines symbol.
---

The Movie Poster Archive include extensive poster images from the films of stars like Susan Hayward, Kirk Douglas, Katharine Hepburn and many more. This month's featured star is Susan Hayward
---


Gary Morris's insightful publication Bright Lights Film Journal turns the celluloid in films from a unique perspective. Click on the image above for more pure movie views.
---
Bruce Hershenson Move Posters



Bruce Hershenson has been running successful movie poster auctions for a number of years, most notably for Christies. His site includes many images and a huge variety of posters for sales from his periodic catalogs.
---


The Cinema Laser
A home grown magazine for laserphiles that has been publishing for a number of years and has embraced DVD in a big way. Lots of helpful information.
---

April 19, 2000
Click on the DVD MIA symbol for profiles of DVDs missing in action.
Add films to the DVD MIA Master List by filling out a simple form. Click Here