Fahrenheit 451/B,B
Universal-Image/1966/112/WS 1.85
Ray Bradbury's totalitarian novel about the death of books is brought to the screen by French director Francois Truffaut in his only Hollywood film. The hard and frightening edge of the book is somehow lost in this very cold and distant translation.
In this vision of the future the Nazi-like book-burners of the State are called Firemen. Peerless Fireman Montag, looking confidentially toward promotion, encounters a strange woman on the way home from a little bit of burning. She turns out to be part of a revolutionary cult of book lovers whose sole purpose in life seems to be to save books, in whatever form possible. Montag is irresistibly attracted to her and then, because of her, to the books he burns. The ordered, State planned life he lives begins to fall apart. His wife, a comfort creature transfixed by State controlled television, questions the change in Montag's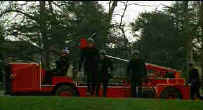 Firemen on the job..İMCA-Universal
demeanor. His Chief begins to sense that Montag has lost some dedication, and the mysterious Firemen's pole no longer is receptive to Montag's altered mental energy.
Truffaut tries to bring some added interest to Montag's predicament by casting Julie Christie in the dual roles of wife Linda and lover Clarisse. While I love Christie, I am not sure this works to advantage. Montag is played by European star Oskar Werner with cold detachment in contrast to his hot job. Werner is so subtle in this film one can hardly detect a change even after the character is doubly seduced by Clarisse and books. Cyril Cusack strikes the perfect note as Montag's superior.
Presented in widescreen 1.85:1, Fahrenheit 451 (the temperature at which book paper burns) is a good looking DVD. The image is sharp and colors are bold. Contrast could have been more consistently strong, however, the filmmaker's palette may well have determined the look.


Selections from the feature archive include articles on Akira Kurosawa, Frank Darabont, Blonde Bimbos, Hollywood Street Gangs, or Vietnam: The Hollywood Pariah, and many more...



Is North by Northwest Hollywood's definitive exploration of the nose? From schnozzles to beezeers, film mavens make the most of the foremost. Click on Mount Hitchcock for more.
---
Body Parts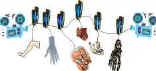 Hollywood's long fascination with parts of the body is explored piece by piece.
---


Catch the Hollywood take on Blonde Bimbos by clicking on the image above.
---
Sturges Emerges


Preston Sturges was Hollywood's resident comic genius for more than a decade. His movies are timeless. Click on his image to read all about it.
---