American Pie(SE)/B,A-
Universal/1999/96m/ANA 1.85
Yes, itís another coming of age comedy about high school kids, but a little bit extra is served up in this tasty comedy dish from directing brothers Paul and Chris Weitz. This is John Hughes with a twist; a twist of honesty and some graphic inspiration. The broad humor includes obvious sexual peccadilloes, unlikely use of apple pie, and disgustingly spiked drinks. This is not the first imaginative use of apples in an American comedy. Connoisseurs of the act will remember the excellent use Phillip Rothís protagonist in Goodbye, Columbus made of an apple.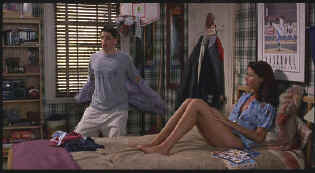 Jason entertains Natasha and a few others. ©Universal
Writer Adam Herz dishes out American Pie in a minimalist plot. Senior year is almost over and prom fast approaching. Four friends make a cherry-breaking pact, vowing to successfully spear the ladies before the school year is out and prom night appears to be the perfect opportunity for the big event times four. Before the prom unfolds with little hilarity, Chris joins a jazz chorus to get near a girl, Jason makes internet history, at least local high school internet history, Finch becomes a legend and a laughing stock, and Kevin hits the books pretty hard.
The actors have a good time doing the bidding of first time directors Paul and Chris Weitz. Jason Biggs makes every moment of screen time delightful as Jim. Alyson Hannigan is hilarious as Michelle, the flute playing dork full of surprises. Chris Klein pretty much does similar work to his Election role, once again playing a jock with innocent charm, but he is effective. Natasha Lyonne could have had more screen time as Jessica. She is one funny young actress.
The Weitz Brothers make the most of their directing debut, displaying a fine sense for comic situations without letting go of control. The timing is excellent and the editing makes for a giggly pace. American Pie is a well-photographed, upbeat physical production. Lots of natural light permeate the style and enhance the mise en scenes. Steadicam shots are effectively sprinkled throughout the shoot.
The outtakes are so hilarious, but, damn, they are way too short. More outtakes, I say, more. I just canít enough of a good thing. Audio commentary is provided by the Weitz brothers, Adam Herz, Jason Biggs, Eddie Kaye Thomas, and Seann William Scott. Yes, and itís just another party, or seems so, as these guys have lots of fun watching and reliving the experience of American Pie. The DVD presents the theatrical R-rated theatrical presentation. American Pie is also available in a virtually identical Unrated special editon DVD with some minor difference in the outtakes. The slightly more pointed content includes a much better pie sequence.
American Pie is baked into a delicious DVD. Lots of light output makes the natural lighting very effective. Contrast has snap and detail is consistently well rendered. Slight edge enhancement is noticeable is some scenes, but is never intrusive. The picture is virtually free of film grain and this meets well with the desired style. Colors are consistently rich and contained within the boundaries of their respective objects. The music is given a punchy soundtrack treatment in Dolby Digital 5:1 surround. Ambient effects are minimal.