Rolf Kent's wry theme music that tracks much of the route of Slums of Beverly Hills amplifies the comedy. It's a clue to how you should be reacting, and while it could be viewed as a production weakness, it works well. There is an undercurrent straddling the obvious. Beneath the laughter and smiles is a painful story of a family trying to stay together. The Abramowitz's are swimming in the rough waters at the horizon line and whether or not they can stay in sight of land is up for debate.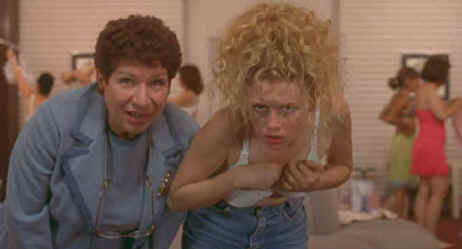 The first bra.©Fox
Vivian Abramowitz is a physically mature teenager about to enter high school. Living like a gypsy with her father Murray and two brothers, Vivian is facing the onset of womanhood under the most trying circumstances. Murray can't make enough money to keep the family in an apartment for more than a few months before they have to sneak out in the night to a new abode. But he's determined to keep the kids in the Beverly Hills school district somehow. His successful New York brother has run out of financial patience, but an unexpected visit from niece Rita saves the day, momentarily anyway.
Though it does not seem that a lot transpires in the course of Slums of Beverly Hills, there is a definite sense that this family has learned what is most important in their lives. It's the love and support that they must show themselves. There is some surprising ugliness that makes its way into the script, but it helps achieve the off-center tone, giving this film a unique voice.
Tamara Jenkins makes her debut feature film as writer/director memorable. She is incisive in her cuts and pacing and knows where she is going. Jenkins also wisely gives her actors breathing room. Natasha Lyonne makes Vivian a complex minx, combining innocence and uncertainty with an adventurous spirit. Alan Arkin is well cast as Murray findings plenty of worn threads in the weave of his character and Marisa Tomei's Rita is a positive infusion of energy.
Slums of Beverly Hills is presented on DVD in a rather pale palette. Contrast is certainly less than optimal. The disc images are uniformly sharp, but the lack of color intensity makes the overall picture bland. Outdoor scenes are fat too washed out owing to the questionable balance of exposure. Check out the some the apartment scenes near the windows. The outside light nearly blows out visibility on the interior. There's a nice openness to the music on the Dolby Digital 2=channel soundtrack. Don't expect much in the way of spatial effects in this original comic vision. The package incorrectly identifies the DVD as recorded in Dolby Digital 5:1.