Wild Bunch, The(SE) A, B+
Warner/1969/145m/WS 2.35
Film rhythms can invite viewers into another world. The Wild Bunch is director Sam Peckinpah's master class in the perfection of film rhythm. Peckinpah must have set new records for the number of cuts in The Wild Bunch, but it is a composition worthy of a genius. The camera lingers in close-up or long shot with perfect timing. Whether catching the glint of steel in the eyes of Pike Bishop or recording the blown up bridge from multiple angles, Peckinpah's edits are executed to precise effect. The Wild Bunch is Peckinpah's mesmerizing masterpiece. It's seductive force never fails to blow me away .
The Wild Bunch is, of course, Sam Peckinpah's paean to the changing world. This last ride for Peckinpah's surly brood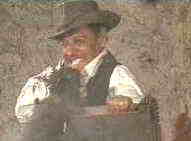 represents a simpler time, a time of honor among thieves that is quick disappearing with the new West. Death is dealt out on wholesale terms and men like Bishop are a thing of the past. Pike Bishop leads his bunch to a last big job, but the bank robbery is a set-up and bounty hunters, led by former partner Deke Thornton lie in ambush. The bunch flees to Mexico through a storm of carnage only to wind up in an even wilder conflagration with the soldiers of despicable general Mapache.
The actors don't get the credit they deserve for The Wild Bunch. William Holden is brilliant in the role of Pike Bishop. His former matinee looks beginning to dissolve into dissipation, Holden captures the essence of Bishop. The laconic Robert Ryan captures a self-loathing propped up by a distant respect for some truth. Ernest Borgnine as Dutch gives Holden great support and Ben Johnson and Warren Oates are down and dirty as the Gorch brothers. Edmond O'Brien, Strother Martin and L.Q. Jones round out the cast of actors having a field day south of the border.
Peckinpah's command of this film is never in question. It's his great cinema moment, but his collaborators give him everything he asks of them and more. Walon Green's screenplay creates a set of memorable characters with perfect lines like "I wouldn't have it any other way." Lucien Ballard's cinematography is magnificent. Jerry Fielding's score propels the action decisively. Lou Lombardo's editing is an awesome achievement.
With this latest edition of The Wild Bunch, this time on DVD, "Bunch" aficionados get the bonus of a documentary on the making of the film. While the 35 minute film is very entertaining, it left me wanting more. It was a tasting glass of a spectacular wine. The inspirational way the amazing walk to confront Mapache was put together is a revelation
While The Wild Bunch DVD is a welcome catalogue addition, it burns my backside that this important 2.35:1 film was not delivered anamorphic. Warner chose to windowbox The Wild Bunch to compensate for overscan on most televisions. The widescreen presentation is sharp, but not devoid of grain. Colors are accurate and controlled. Visually, this is as good as it's going to get for many years. Dialogue is crisp and Jerry Fielding's dynamic score comes to glorious life in the Warner DVD of The Wild Bunch.


Selections from the feature archive include articles on Akira Kurosawa, Frank Darabont, Blonde Bimbos, Hollywood Street Gangs, or Vietnam: The Hollywood Pariah, and many more....


During World War II, Hollywood pumped out war movies one after the other. Vietnam was was another story. As far as Hollywood was concerned it was a pariah.
---



The National Film Preservation Foundation (NFPF) is the nonprofit organization created by the U.S. Congress to save America's film heritage.
---
Imaging Science Foundation


The Imaging Science Foundation promotes proper standards in home theater viewing. ISF trained technicians offer monitor calibration services to consumers. The difference in a properly calibrated monitor can be astounding. Click on the image to find an ISF member near you.
---

The Movie Poster Archive includes extensive poster images from the films of stars like Susan Hayward, Kirk Douglas, Katharine Hepburn and many more. Our featured star is Lana Turner.
---