Sophia Loren (1934-)
This is one woman who knocked your eyes out from the very first time you saw her on the screen. With teenage hormones flowing freely, I could only wish Sophia made twenty movies a year back in 1956 was I first saw her in Boy on a Dolphin. Boy. Who cares about dolphins, Alan Ladd, Cinemascope and Clifton Webb: When Sophia rose out of the water she was a goddess mermaid claiming her regal place in Hollywood.
After looking down at Alan Ladd or occasionally stubbing her toes on the box Ladd was standing on during their love scenes, Loren must have been relieved to play opposite John Wayne in Legend of the Lost. The only thing this clinker proved was that Loren looked lusty all wet or covered with desert dust. From Wayne the Hollywood powers cast her between Cary Grant and Frank Sinatra as they hauled a canon up a mountain in The Pride and the Passion. Thank God for Sophia. Looking at that canon and all those grunting men was pretty much a bore. Not the best of Grant and Sinatra either. But Sophia managed to look delicious despite the smoke and dirt.
I think Loren really showed her stuff in light comedy. Charm came natural to the statuesque beauty, and that lilting Italian accent did not hurt one iota. She had presence galore and held you own with some of the screen's most durable leading men. She stood toe to toe with Cary Grant in Houseboat and and even got away with bing, bang, bonging thru those lush full lips, "presto presto, do your very besto" or some some such inane lyric. It was good enough to convince Grant to take a fling, reportedly, both on and off screen. Me? No presto for me. I just sat glued to my theater seat drooling in my bag of popcorn.
Loren filled up tight-cinched outfits with uncommonly open sexuality. Every time she appeared on the screen in semi-undress, it must have given the ratings board cause to pause. Maybe her accent helped accentuate her exotic curve, but oh those curves, and more curves. Loren held her opposite a number of high profile Hollywood actors. She hit it off with Clark Gable in It Started in Naples. In two tepid films with opposite Anthony Quinn, Loren got to show off little more than those beautiful legs, though Heller in Pink Tights was colorful enough. Loren played blonde in those pink things and it undermined some of primal animal magnetism. Opposite William Holden in The Key, Loren was able to set off some sexual sparks, but the script was not exactly mesmerizing. In 1965 Lady L fell flat on it's overproduced face starring opposite with Paul Newman in what was supposed to be a sexy romp. Marlon Brando was the man in the 1967 A Countess from Hong Kong, but the comedy failed to ignite despite the efforts of Charlie Chaplin as director. Chaplin does a delightful turn as a waiter. Arabesque was one of better Hollywood excursions. She and Gregory Peck made good screen companions under the stylish direction of Stanley Donen. Not quite up there with Donen's Charade, but solid entertainment. Playing Dolcinea in the 1972 adaptation of the Dale Wasserman musical Man of La Mancha, Sophia looked as if she might blow the wan Peter O'Toole away with her hot breath.
Loren never lost her Italian roots. In 1957 she married producer Carlo Ponti while on location filming Houseboat. Presto, presto, she was actually married by proxy in Mexico. That's a new one on me. No satellite hook-up either!. Husband Ponti produced several American movies starring Loren and then brought her back to Italy for her greatest triumph in 1961.
I thought the only reason Sophia Loren could make me cry was because I couldn't have her, fantasies notwithstanding. Two Women was a Loren revelation. Under the guidance of Vittorio De Sica, Loren gave an Academy Award winning performance as an Italian mother who is raped during World War II. It's a heart rending performance, but I must confess I even prefer Sophia purring regally over a panting Peter Sellers in a minor comedy The Millionairess.
There were some big spectacles along the way. El Cid was pretty successful, but Loren's sexuality as the Lady Chimene was restrained by the good and noble Rodrigo Diaz de Bivar played by Charlton Heston. In Fall of the Roman Empire, covering the same period as Ridley Scott's Gladiator, Loren was a breathtaking Lucilla to Christopher Plummer's Commodus. No Maximus in sight in the Anthony Mann directed film.
Back in Italy, there were several high profile successes produced by hubby Ponti. Boccaccio '70 was a big omnibus film starring Sophia in one story. In Yesterday, Today and Tomorrow, reunited with her Two Women director Vittorio De Sica, she played three roles in the trio of stories linked together in one film. In Marriage Italian Style, again under De Sica, Loren teamed with Marcello Mastroianni for same fine sexy comedy.
Loren's film career all but disappeared in the late seventies. She remained a high profile glamorous international personality, but the majority of her work was on television. The few films were not especially notable.
Sophia Loren could never be called a conventional beauty. Exotic, yes. But her big, almond shaped eyes, a lusty brown with a hint of sea green, were amazing. Her nose wasn't a pert turned up chiseled protrusion. Her mouth was probably too big and her lips maybe a touch prominent. But the sum of those features is hard to adequately describe. Earthiness exuded from her every breath. I won't get into the beautifully proportioned amply appointed body. As recently as the 1994 Robert Altman film Prêt à Porter, Sophia curled my toes while Marcello Mastroianni chased her around a bed. Memories of adolescent adoration were rekindled by those magnificent legs, as well as other assets. And she was the best thing about Grumpier Old Men, the 1995 comedy in which she co-starred with Walter Matthau and Jack Lemmon. Sophia Loren can still take my breath away (I wish she could take my breadth away!). This women has retained her original aspect ratio!


Selections from the Feature Archive include articles on Akira Kurosawa, Frank Darabont, Blonde Bimbos, Hollywood Street Gangs, or Vietnam: The Hollywood Pariah, and many more....



Screen Voices and style of delivery often stamp an actor's screen image indelibly. Click the lips to read more.
---


Gary Morris's insightful publication Bright Lights Film Journal turns the celluloid in films from a unique perspective. Click on the image above for more pure movie views.
---
Brad Lang continues to add more interesting material to the extensive collection at Classic Movies. Everything from actors and actress to your favorite directors is linked at the site.
---


The official site for information about the great comic director. A treat for connoisseurs of classic Hollywood madcap.
---


Films of the Golden Age is
a showcase for special feature articles on film people and Hollywood history, all illustrated with beautiful photographs and classic movie art.
---


The home of John Tisch's invaluable Poster Price Almanac. Every serious poster collector uses the Almanac as a reference.
---
Avid-Collector Posters



Great selection of big foreign paper, plus the home of J. Fields linen service.
---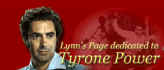 An elegantly presented fan site dedicated to one of Hollywood's great action stars.
---


DVD News, Reviews, Previews, Easter Eggs and more.
---


The Films2 website contains Films2.com is a comprehensive film website, providing a searchable shop of new and archived video and region 2 DVDs to buy. You can check local cinema listings, read the latest film news, reviews and gossip, and see the latest film trailers.
---


Annie Get Your Gun/A,A-


Irving Berlin's brilliant musical gem is polished and preserved on this Warner DVD release. An explosion of music, song, dance and color.
---

Click on the DVD MIA symbol for profiles of DVDs missing in action.
Add films to the DVD MIA Master List by filling out a simple form. Click Here
---

Need a daily fix of movie quotes. Reel Quotes Newsletter has the answer. Click on the Reel Quotes symbol for more.
---