Made for Second Billing
By Stu Kobak
As America descended into the throes of economic depression in the early 1930s, Hollywood saw the need to step up entertainment output, to give theater goers more bang for their buck, and they began filling theater screens with double features. The double feature in essence was the birth of the pure "B" movie, bred to accompany studio "A" presentations.


B movies had no pretensions to grandeur. They existed to simply support a concept. They were churned out with production line mentality. Sometimes they served as jumping off points for untried actors, but mostly, actors toiling in B world never rose above that status. A notable exceptions were John Wayne, who graduated from Republic quickies to the top of the box office. But the films weren't exactly designed as acting showcases. Directors who could get the shot in one-take were valued less for artistic sensibilities than economic realities. Some graduated to the world of A list movies, but others remained the unsung heroes of the double bill, delivering entertainment on the cheap, making the most of the least.
The B movie phenomenon spawned a host of genre films including mysteries, westerns and comedies. Once ensconced as a movie going standard, the Bs churned out picture after picture with similar elements, and in a number of cases a series of films was made with one central character; maybe a Charlie Chan or Boston Blackie, with a new film appearing almost every year.
The demand for B pictures fostered the growth of a group of second tier studios that churned out black and white quickies with minute budgets and built-in profits. Sometimes former stars made B movies on the way down. Surely, they had hopes of resurrecting a career in decline, but it usually was nothing more that a signal of the end. Stars of B movies often were recruited for supporting roles in big studio productions.
Many of the extant films are little more than reminders of a simpler time. Their limited production values and culled together scripts were made with invisible ink. Yet, some indelible images survive. Sometimes, art rises above its origins. In the forties, many B film makers found inventive ways to make movies on the cheap that
Aspects of B movies excited an element of pure pleasure in audiences. Bs were seldom demanding. Like the tough guys and gunfighters depicted, they shot from the hip. When they expanded into series of films, you knew what to expect from the characters. The pleasure principle hasn't disappeared altogether and many action flicks move ahead with just that mentality, except script doesn't matter much anymore, it's all pyrotechnics, explosions, flashy photography and surround sound to the nth degree. And the budget for a single flick are enough to have delivered the entire output of one of the B studios of yesteryear.
Today, many of those B films have enduring artistic value thanks to those filmmakers who brought something special to their works. Some of those lean black and white films rose above the limitations imposed by budget. Many films considered classic noirs were born on B mentality. Creative forces found ways to deliver something special to the screen.
In the early to mid-fifties, double features slowly became a thing of the past. They lingered in second string theaters for a little while and survived in places like forty-second street in Manhattan for years, but mostly they filled Television's need for cheap film programming.
Many of the B movies still live in their poster incarnations, often far more flamboyant than the films themselves. B Movie posters strain to rise above the origins of their meager film budgets. Lurid qualities are emphasized to attract audiences. The poster art emphasizes the mystery and excitement. Forgettable titles are often turned into memorable movie posters.
Click on the thumbnails for a larger image.


Selections from the Feature Archive include articles on Akira Kurosawa, Frank Darabont, Blonde Bimbos, Hollywood Street Gangs, or Vietnam: The Hollywood Pariah, and many more....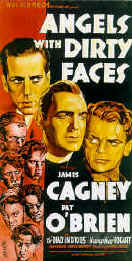 Hail, Hail, the Gangs in Hollywood
From Angels with Dirty Faces to West Side Story to Menace II Society, Hollywood has depicted youth gangs as reflections of the times.
---
Thorough a Lens, Obliquely



Flicks about Hollywood make fascinating material, but the establishment isn't always totally forthcoming. Click on the Hollywood montage for a look at some of the best Hollywood films about the movie-making business.
---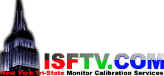 ISF Monitor Calibrations in the Tristate New York area. Lots of hardware info and frequent hardware peaks from video expert Kevin Miller. They may be judgmental, but that's the point, isn't it. Lots of DVD reviews plus news and more.
---


Manufacturer of computer-video interfaces, switchers, distribution amplifiers, computer-video scan converters, and high resolution cable. Found in many high end home theater systems.
---

Kinoeye Archive
This is a resource of all content-rich materials on the web relating to Central and East European cinema. The ultimate aim of the Kinoeye Archive is to provide a near-as-damn-it definitive index of intelligent and thoughtful English-language analysis of Central and Eastern European cinema on the web.
---


Mystery writer Fred Hunter digs into classic films on DVD. Check out his insightful reviews at The Classics on DVD.
---

Have you visited Home Theater Talk lately? One of the friendliest places on the Net for Home Theater and DVD discussion, you can get help for installation problems or simply share your opinions with other Vidiots.
---
Avid-Collector Posters



Great selection of big foreign paper, plus the home of J. Fields linen service.
---


Excellent resource for movie review links, with many early looks
---


The home of John Tisch's invaluable Poster Price Almanac. Every serious poster collector uses the Almanac as a reference.
---


The National Film Preservation Foundation (NFPF) is the nonprofit organization created by the U.S. Congress to save America's film heritage.
---

The African Queen: Humphrey Bogart to Katharine Hepburn, tired of apologizing-'Well, I ain't sorry no more, you crazy Psalm-singing old maid.'