Wolf/B-,A
Columbia/1993/118m/ANA 2.35
An elegant modern Wolfman, Wolf links business world politics with the animal world ethos of survival of the fittest. Jack Nicholson has one of his best roles in recent years as the wolf bitten book publisher. While director Mike Nichols focuses on the internecine ways of modern business, Wolf keeps a dynamic center of gravity. It is only in its latter scenes when some hokey special effects put this Wolfman on the wrong footing.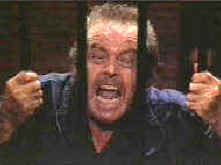 Nicholson howling. ©Columbia Tristar
Michelle Pfeiffer is on hand as the rebellious romantic interest and James Spader oozes his way through the role of ruthless publishing protégée.
This one's a beauty of a DVD with stunning anamorphic images. Shadow detail is balanced perfectly, color is consistently dynamic. Viewed anamorphic, Wolf approaches the seamlessness of film. The Dolby 5:1 sound is a delight with enhanced impact and presence compared to the Dolby 2-Channel track. Put this one in your Christmas stocking and take it out every full moon.


Selections from the feature archive include articles on Akira Kurosawa, Frank Darabont, Blonde Bimbos, Hollywood Street Gangs, or Vietnam: The Hollywood Pariah, and many more....
Sturges Emerges


Preston Sturges was Hollywood's resident comic genius for more than a decade. His movies are timeless. Click on his image to read all about it.
---


Gary Morris's insightful publication Bright Lights Film Journal turns the celluloid in films from a unique perspective. Click on the image above for more pure movie views.
---


Click on the link to visit the judge's chambers.
---
Imaging Science Foundation


The Imaging Science Foundation promotes proper standards in home theater viewing. ISF trained technicians offer monitor calibration services to consumers. The difference in a properly calibrated monitor can be astounding. Click on the image to find an ISF member near you.
---


Information on film sound in theaters and home theaters. Lots of helpful information provided in a handsome interface.
---