Wit/ B, A-
HBO/2001/99/ANA 1.85
Talk about a challenge: Wit details literature professor Vivien Bearing's battle with cancer. Unlike other films that deal with disease, Wit confines itself almost exclusively to the hospital wing, a stark barrier to overcome. Ultimately, Wit is disappointing in the way Bearing accepts her fate. There's little fight, only recognition and resolve. How could this character put herself into the hands of the clinicians and lose the poetry of her life? Was it in keeping with the sharp-witted character portrayed? It's a difficult question to answer. Would she stand for yet another examination to please her doctor?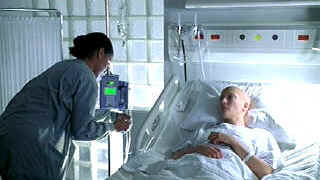 Bearing faces the unbearable. İHBO
Bearing examines herself with the same clinical candor that doctors treat her cancer. The lack of humanity in the hospital ward may be a fact of life, but it doesn't make for sympathetic viewing. In an interesting stroke, one of the young doctors treating Bearing is a former student, which helps illuminate aspects of her character. Bearing, unmarried, attached to her work with the cold passion of a zealot, ultimately is the best observer of her own life.
Structurally Wit is essentially a performance play. Skilled direction from Mike Nichols prevents the stage adaptation from feeling bound by its origins even though it is a mostly static film. Nichols knows where to position his camera to best effect. But, he's a cold director for a cold story. There's not much room for sentiment in Wit.
Emma Thompson is wonder: Brave, fully exposed, backing away from nothing. She illuminates Vivien Bearing. There's never a doubt about the superior intelligence of this woman. Audra McDonald plays Bearing's nurse, virtually the only sympathetic character in the film She does an excellent job of maintaining Bearing's dignity through various stages of the film.
The transfer is first rate. Hospital lighting is cold yet natural. Color is well saturated. Sharp images throughout. You can catch every nuance of Thompson's performance, every change in her skin texture or lips that are more dried out than in previous scenes. The images are revealed as transparently as Bearing's character. Black level is deep and shadow detail has effective range. Dolby Digital 2 channel stereo delivers an open sound stage for the music and dialogue is crisply enunciated.


Selections from the Feature Archive include articles on Akira Kurosawa, Frank Darabont, Blonde Bimbos, Hollywood Street Gangs, or Vietnam: The Hollywood Pariah, and many more....

Film noir: The phrase hangs awkwardly on the tongue, shadowy images peek out from behind half-closed doors. Click on the Noir and Noir Again symbol for a look into the dark spaces of Hollywood's revisiting of film noir.
---



A film of extraordinary power that pulls no punches, The Grifters is not to be missed. Hungry characters on the con, the short con, the long con, the self con.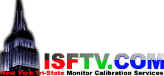 ISF Monitor Calibrations in the Tristate New York area. Lots of hardware info and frequent hardware peaks from video expert Kevin Miller. They may be judgmental, but that's the point, isn't it. Lots of DVD reviews plus news and more.
---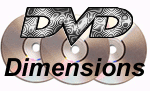 DVD Dimensions sells DVDs from an easy to use online interface.
---


Mystery writer Fred Hunter digs into classic films on DVD. Check out his insightful reviews at The Classics on DVD.
---

Jim Doolittle
ISF Instructor. Premier calibrator and expert front projection system setup technician in the Boston area.
---