A Walk in the Clouds/B+,B
Fox/1995/102/ANA 1.85
Like the fragrance of a beautiful spring blossom, A Walk in the Clouds is unabashedly romantic. Director Alfonso Arau has his fingers on the pulse of this style filmmaking. Arau extracts ever bit of magical elixir from his sweetly realized fantasy. With more solid sense of reality than his wonderfully magic Like Water for Chocolate, A Walk in the Clouds is simpler and even more romantic. A chance encounter on a bus leads from one world to another, from the bitter reality of returning war vets to the rustic sweetness of wine country in full bloom.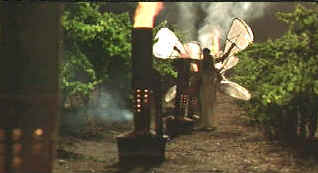 Butterflies battle the frost. ©Fox
Keanu Reeves delivers an outstanding performance as Paul Sutton, the young chocolate salesman newly returned from service in World War II Europe. Reeves gives Sutton the requisite sturdiness of character and innocence to fashion an extremely appealing romantic leading man. Beautiful and sensual newcomer Aitana Sanchez-Gijon is thoroughly delicious opposite Reeves. The two ignite the vineyards with passion and purity. Anthony Quinn turns in a broad and delightful performance as scion of the Aragon clan grandfather Don Pedro, a lover of chocolates and love. Giancarlo Giannini is far too sour as papa Alberto Aragon, a weakness in the script and a fault in character interpretation, yet it doesnít ruin the taste of the wine.
Arau doesnít loose an opportunity to coat his loving film with sugar crystals of romance. Blazing sunsets illuminate bucolic vineyards breathtakingly. Fanning the frost away is an excuse for amorous embraces. The first crush of the grapes is a festive purple dance laced with an earthy sensuality. Even a night time serenade isnít too much for Arauís romantic vision.
Arau's collaboration with cinematographer Emmanuel Lubezki is inspired. Lubezki creates dreams through his lens, painting images with supreme confidence. Maurice Jarre's score is unabashedly romantic.
Arau likes to shoot with filtered lenses and a fuzzy warm palette. This Fox DVD transfer captures the spirit of Arau's filmmaking, though at times the image is too soft for my taste. My guess is that the original elements exhibit some inconsistency in focus. Edge enhancement kept to a very minimum benefits the transfer. More important, the exquisite lighting is preserved with outstanding accuracy. Some of these images absolutely look like they were painted with light. Colors are delicate and have a fine range. I did not get a huge sense of space from the Dolby Digital 5:1 mix. Dialogue is delivered with clarity and the music is presented in a nice front sound field. A short, standard, featurette and a theatrical trailer accompanies the film. No filmographies.


Selections from the Feature Archive include articles on Akira Kurosawa, Frank Darabont, Blonde Bimbos, Hollywood Street Gangs, or Vietnam: The Hollywood Pariah, and many more....


Watching Movies or Watching Video
Don't lose sight of why you bought that DVD in the first place.
---



DVDPlanet is the DVD incarnation of legendary laser retailer Ken Crane's. Deep discounts and serious service.
---

Direct from the corridors of the Home Theater Forum, Home Theater Talk is the newest place on the Net to discuss everything home theater. Friendly atmosphere and knowledgeable folks are the secret ingredients.
---


The National Film Preservation Foundation (NFPF) is the nonprofit organization created by the U.S. Congress to save America's film heritage.
---
Avid-Collector Posters



Great selection of big foreign paper, plus the home of J. Fields linen service.
---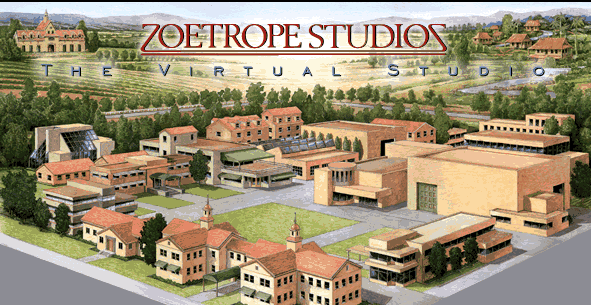 The home of Francis Ford Coppola's Zoetrope Studios has more corridors of interest than you might expect.