Titus (SE)/B+,B-
Fox/1999/162/ANA 2.35
Julie Taymor works harder at Titus than Shakespeare. The outrageous character behavior and unrelenting darkness enveloping Shakespeare's ancient Roman vision are embellished and expanded upon by writer/director Taymor. Taymor's visually overpowering Titus is an audacious assault on the senses.
While many critics lambaste Titus Andronicus as an immature play of play of Shakespeare's youth, the storyline is thoroughly compelling, if unforgiving. Propelling the action, the flawed hero Titus, brings down his own house with pious righteousness. Can Titus's cold swagger, tempered by the blood of his family, make a sympathetic character of him. It's too tall a task for this brutal and bloody tale. Taymor washes everything with an extra helping of blood and garishness.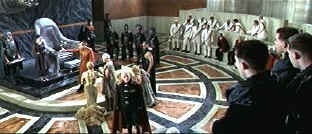 Breathtaking production design and staging. ©Fox
The opening staging is merely phenomenal. The stylized mechanical movement of Titus' soldiers suggests they live in the imagination of a young boy. Yet, I personally found aspects of Taymor's anachronistic interpretation confusing. Visual flourishes range from MTV to Buñuel to Dali, and, like the tone, this intentionally chaotic element makes for disconcerting viewing. Nevertheless, the spectacularly hypnotic nature of the production compensates for some overzealous cross pollination of time periods on the part of the director.
Acting interpretations are a mixed bag with a level of consistency hidden in the dark recesses of ancient Rome. Anthony Hopkins brings great icy authority to the early Titus. By the end of the production his Titus either a raving maniac or a refugee from Silence of the Lambs. Jessica Lange plays Goth Queen Tamora with venomous intensity pretty much from beginning to end. Alan Cumming is definitely playing to another piper as Emperor Saturninus. Prancing about with pursed lips and lascivious leer, Cumming is consistently playing black comedy. Effectively on the straight and narrow are Colm Feore as Marcus Andronicus and Angus MacFayden as eldest Andronicus son Lucius.
Elliot Goldenthal's remarkable score is every bit as powerful as the fabulous production design. Goldenthal, whose classical chordsmanship has enhanced films like Heat, Demolition Man and Michael Collins, is especially in synch with director Taymor. Hail to the cinematography of Luciano Tovoli, the production design of Dante Ferretti and the costumes of Milena Canonero.
Visually, Titus is a mixed bag on this two DVD special edition set. There are times when the image is penetratingly deep with detail resolved to perfection. Unfortunately, many scenes suffer from gross over enhancement with ghosting more appropriate to Hamlet. Taymor's ice blue dark scenes are difficult to to successfully pack enough visual punch on the home theater screen. Dynamic range of the Dolby Digital 5:1 Surround Sound is highly effective. From a whisper to a shout to an anguished cry, voice is treated like an instrument and delivered with outstanding clarity. The music, haunting the characters, hangs like a death shroud in the background waiting to claim its victims. Truly an outstanding balance of sonic control.
Julie Taymor featured on one audio commentary notes that Jessica Lange never performed Shakespeare before, and I was so surprised considering the power the actress has portrayed on the screen. Taymor is very specific about the films details, from plot, from stylization to costumes and settings, Happily, Taymor is an outstanding speaker and listening to her is simply musical. Not surprising considering the way she works. Another commentary provide scene specific observations from actor Anthony Hopkins and producer Harry Lennix, and Elliot Goldenthal makes some spare remarks over the isolated music score. Disc two contains a 49 minute documentary, some interviews with Taymor which naturally overlap the audio commentary


Selections from the feature archive include articles on Akira Kurosawa, Frank Darabont, Blonde Bimbos, Hollywood Street Gangs, or Vietnam: The Hollywood Pariah, and many more....



Click on the image above for as original view of Akira Kurosawa's work
---
Sturges Emerges



Preston Sturges was Hollywood's resident comic genius for more than a decade. His movies are timeless. Click on his image to read all about it.


Gary Morris's insightful publication Bright Lights Film Journal turns the celluloid in films from a unique perspective. Click on the image above for more pure movie views.
---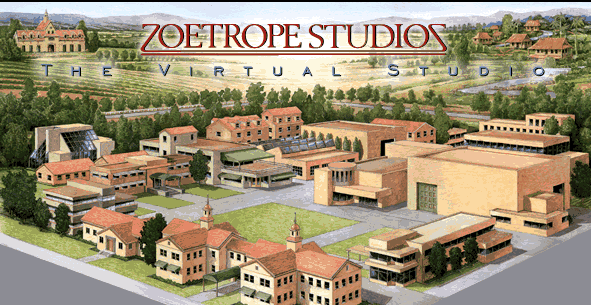 The home of Francis Ford Coppola's Zoetrope Studios has more corridors of interest than you might expect.
---


Now a major independent DVD distributor, Image has parlayed its laser disc business to success. Great DVD release calendar info.
---


DVD News, Reviews, Previews, Easter Eggs and more.
---