Texas Rangers/ C+, C+
Dimension/2001/90/ANA 2.35
In the late 1860s, Texas is overrun by lawless bands of raiders. Local law enforcement is unable to control them. The governor decides that resurrecting the disbanded Texas Rangers is the answer to the problem. Troubled and ill former Ranger Leander McNelly reluctantly agrees to head up the Rangers.
The Ranger recruitment is short and effective, providing an introduction to a number of characters, and is actually probably the best Texas Rangers has to offer. Happily this is a western that doesn't try to blaze any new trails but rides its course along some tried and true western standards. Perhaps Texas Rangers takes itself too seriously, but that's a lot better than a joke fest in the west. Violence happens on a hair trigger in Texas Rangers. Dialogue isn't very convincing and the speech making is far from rousing. The film plays more like a pilot for a television series.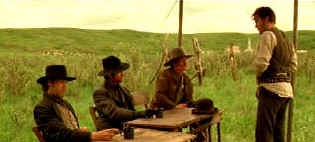 Let the recruitment begin. ©Dimension
Dylan McDermott as Leander McNelly lacks the charismatic screen substance to lead the film much less lead the Rangers. Every war campaign has a conscience figure and Texas Rangers is no exception with recruit Lincoln Rogers Dunnison providing a measure of brains and reason. James Van Der Beek is good enough as Rogers, but the script fails to create a truly interesting character arc. It tries hard to produce a strong coming of age strain with Dunnison, but it doesn't ring true. Big bad guy John King Fisher is played with broad and obvious strokes by Alfred Molina.
Director Steve Minor keeps the action moving through the dust but fails to illuminate the Western with anything more than a plodding trot. The score harks back to some of those big widescreen fifties and sixties westerns boosting the testosterone.
Maybe its the dusty landscapes that gives Texas Rangers a less than satisfying look and maybe its the transfer. The result is some rather pale outdoor scenes. Other sequences are well saturated with good, robust color. The biggest problem with the DVD is prominent peaking on edge transition. Black levels are slightly homogenized with a slightly pinched contrast range. The Dolby Digital 5:1 surround mix is very aggressive.
Reviewed on a Sharp XVC-9000U DLP Projector


Selections from the Feature Archive include articles on Akira Kurosawa, Frank Darabont, Blonde Bimbos, Hollywood Street Gangs, or Vietnam: The Hollywood Pariah, and many more....
A Western is a Western is a Western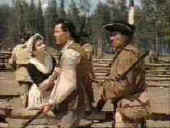 Place or time it's still a Western from John Ford's Drums Along the Mohawk to John Sturges' Bad Day at Black Rock.
---

The Movie Poster Archive includes extensive poster images from the films of stars like Susan Hayward, Kirk Douglas, Katharine Hepburn and many more. Our featured star is Errol Flynn.
---



Bravura simplicity of Felliniís vision perfectly mates with the unadorned tale of Cabiria, the feisty yet innocent prostitute. Don't pass it up.
---


Imaging Science Foundation


The Imaging Science Foundation promotes proper standards in home theater viewing. ISF trained technicians offer monitor calibration services to consumers. The difference in a properly calibrated monitor can be astounding. Click on the image to find an ISF member near you.
---


Nearly 40 key software and hardware companies representing leading consumer electronics giants, major movie studios home video and music video units have joined forces to establish the DVD Video Group.