Strictly Ballroom (SE)/ A-,B+
Miramax/1992/94/ANA 1.77
Baz Luhrmann's debut film Strictly Ballroom is an ebulliently comic celebration of dance with a totally fresh perspective in the delightful Strictly Ballroom. Irreverence punctuates the rhythms of this hilariously successful flick.
The divine comedy is a sentimental look, in broad comic terms, at the world of ballroom dancing. It's rebel with a cause combined with Cinderella to produce the satisfying ending that this extremely upbeat film demands.
Strictly Ballroom is just that, totally focused on the ballroom dancing scene of provincial Australia. It never takes itself remotely seriously yet at the same time is kind to its characters who are more than simply serious. While love may get in the way, it ultimately resolves itself on the spacious boards of the ballroom floor. Incorporating elements of a docu-drama to hilarious effect (A tip of the hat to Rob Reiner's This is Spinal Tap.), director and writer Baz Luhrmann composes his tale with equal elements of humor, music and romance, deftly propelling his characters to an inevitable upbeat finale which leaves audiences dancing out of the theater.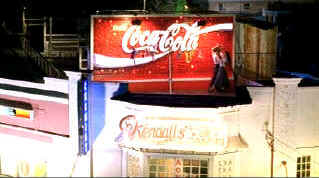 Rooftop dancing lessons. ©Miramax
Paul Mercurio is very appealing as Scott Hastings, heir-apparent to the crown of ballroom king. He trips the light fantastic with lightening feet and injects rebellious verve into his slides across the bounds of tradition. Tara Morice turns convincingly from caterpillar to butterfly as Scott's would-be partner in love and dance. In fact, all the players are convincing under the comic baton of director Luhrmann. The key to that success is that the characters seem to be taking there roles absolutely seriously. They stay perfectly focused living in a world light years away from home theater seats.
Rarely do I recall a more exuberant and thoroughly engaging debut film from a director than Strictly Ballroom. The enthusiasm and affection that Luhrmann has for his characters injects itself into every aspect of the film. It's delightful energy is infectious. While it is not totally original and owes a debt to a wide range of light-hearted cinema from Fred and Ginger, to Saturday Night Fever and even Rocky, the fact is that it banks the debt into a compound dividend paying off in a bonanza of pleasure.
Splendid costume design inspired by the costumes worn by competition ball room dancers. The entire production design is consistently delightful. The Pasa Dobles scene is quite remarkable in how it builds and even develops a tension. The upbeat score, whether from within or behind the action is thoroughly wonderful accompaniment. The photography by Steve Mason captures all the pizzazz and dazzle of the ballroom scene and the ballroom costumes by Angus Strathe exaggerates the glitz to sparkling effect. Choreographer John O'Connell is equally adept at keeping the high energy level of this film from flagging. The enthusiasm of dancing and music is echoed by the verve and brio of the filmmaking style.
Every bit as colorfully saturated as Baz Luhrmann's latest Moulin Rouge, the DVD transfer of Strictly Ballroom is a crowd pleaser. Overall, the pleasing transfer achieves a very film-like look. Though images might have been a touch sharper, it is likely a function of the way the film was shot as opposed to elements or transfer quality. Grain is tightly controlled and consistent throughout the production. Nice lighting balance with good contrast levels. There good variation to the fleshtones in various lighting situations. English titles in the Spanish language sequence are rock steady and perfectly clean. The soundtrack is open and spacious with good balance. Surround information is minimal but creates proper ambience. The surround sound puts you right in the center of the ballroom floor, trading steps with Mercurio, Morice and company.
Strictly Ballroom is pure entertainment of the first order and should not be missed by anyone looking for a joyous night of unbounded pleasure. Double-dip, triple-dip, you'll be greedily licking the drips.
The heart of the special edition is an open and enthusiastic commentary track from Luhrmann, wife and production designer Catharine Martin and choreographer John O'Donnell The thirty minute documentary which inspired Luhrmann to write the play which the film was adapted from is also included. Strictly Ballroom is an infectiously exuberant can't-miss package DVD special edition.
Reviewed on a Sharp 9000VX DLP Projector


Selections from the Feature Archive include articles on Akira Kurosawa, Frank Darabont, Blonde Bimbos, Hollywood Street Gangs, or Vietnam: The Hollywood Pariah, and many more....
Puttin on the Ritz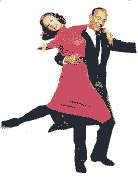 Fred Astaire and Cyd Charisse bring Silk Stockings to life, a remake of Ninotchka, one of many films successfully turned into musicals by the Hollywood dream factory. Read all about remakes into musicals by clicking on the divine dancers
---
Gotta Dance


Fred and Ginger tapped their way into the hearts of movie fans everywhere. Stu Kobak takes a look at some of those dance movies that gifted audiences toe-tapping pleasure. Click on the image to get in on the beat.
---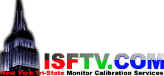 ISF Monitor Calibrations in the Tristate New York area. Lots of hardware info and frequent hardware peaks from video expert Kevin Miller. They may be judgmental, but that's the point, isn't it. Lots of DVD reviews plus news and more.
---


Mystery writer Fred Hunter digs into classic films on DVD. Check out his insightful reviews at The Classics on DVD.
---
MRQE
Find reams of movie and DVD reviews at the Movie Review Query Engine, a index of reviews appearing on the Internet.
---


An on-line Home Theater magazine with excellent hardware reviews, including thorough and responsible research. Check it out.

Take a look at the merry images of America's gift to the movies: Hollywood Musical Posters are featured from The Movie Poster Archive.
---