Moulin Rouge (SE)/ B, A
Fox/2001/128/ANA 2.35
Writer/director Baz Luhrmann approaches filmmaking with enough passion to fuel several movies. It was evident in the deliciously pop art Strictly Ballroom. His interpretation of Shakespeare's Romeo and Juliet was loud, electric, faithful and irreverent. Luhrmann's passion translates to confidence which translates to daring which translates to a cinematic style on the edge. It may not always work, but you must admire the audacious of the work. Which leads me to address my mixed feelings for Moulin Rouge, admittedly daring, brash, exciting, stupefying and over the top.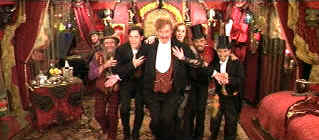 Spectacular Spectacular is spectacular. ©Fox
Moulin Rouge's roots are opera and pop musical mixed with bad melodrama and surrealism; the classic Hollywood musical fused with MTV rhythms divided by two. Luhrmann attempts to take a classic 19th century tale and adapt it to 20th century sensibilities. That he succeeds and fails in the same breath is not surprising.
The simpering through line smacks of the maudlin opera La Boheme. A struggling writer falls in love with the queen of Paris's "depraved" night life , the star of Montmartre's Moulin Rouge, a singer, dancer and courtesan of the most daring and notorious club in France. In the meantime, Satine is prize bait in the club's search for fresh financing. Maybe Luhrmann does treat the bad melodrama with a comic darkness, but it was not evident to me. Tone swings back and forth like a trapeze artist.
Ultimately, Moulin Rouge is a musical in which style dominates story and even overpowers the music. Script is subservient to visual flourish. Magnificent production designs and costumes are chopped into a cacophonous puzzle of pieces. Brash rapid cutting results in an explosion of energy. It's also disconcerting. You are left with the impression that excessive energy has undermined greatness. There is greatness in Luhrmann's puzzle. In his zeal to paint movies with unique vision, Luhrmann's canvas becomes painfully busy.
Satine is a dazzling star of the Moulin Rouge universe. Nicole Kidman delivers the glitter and ardent sexuality in a daffy performance laced with camp and dressed with obvious hunger as the down and dirty diva of the diamond dogs.. Kidman's long limbs and graceful curves fit perfectly into the tight revealing costumes. Ewan McGregor is writer Christian swept up in the excitement and vitality of a Paris on the cusp of an artistic Renaissance. McGregor never seems quite right belting out the soulful ballads or eagerly searching for camp acting flare. Jim Broadbent is absolute perfection as entrepreneur extraordinaire Harold Zidler, the lascivious life force of Moulin Rouge. When Broadbent breaks out into Voulez Vou Couchet Avec Moi and Spectacular Spectacular, the screen reverberates with his decadent energy. Too bad the ferocious editing rends his performance to shreds. Richard Roxsburgh is a wonderful Duke. He probably is treated to the kindest editing of all. The camera takes enough time on his rubber face to extract exuberant hilarity.
Moulin Rouge explodes into brilliant DVD color. Production design dominated by hot reds is perfectly transferred. Fully saturated colors retain unique space with no hint of bleed. Images are uniformly sharp showing off the marvelous production detail. Fabrics realize a tactile sense. Costume details display every ornament. No visual artifacts upset the grand design. High key bright theatrical presentation is rendered to the highest standard. Shadow detail is in perfect balance and blacks are lusciously deep. Both Dolby Digital and DTS mixes are available. The DTS is one of the best in recent memory. Levels are consistent with the Dolby. Bass range is filled with huge long bursts of air.
Two excellent commentaries from Luhrmann, production designer Catherine Martin (Mrs. Luhrmann), director of photography Don McAlpine on one and writer Craig Pearce and Luhrmann on the second. The second disc in the special edition package includes deleted scenes, five featurettes, a making of HBO special, music videos and multi-angle sequences. There's more than enough detail to thoroughly immerse yourself in the world of Moulin Rouge.


Selections from the Feature Archive include articles on Akira Kurosawa, Frank Darabont, Blonde Bimbos, Hollywood Street Gangs, or Vietnam: The Hollywood Pariah, and many more....
Puttin on the Ritz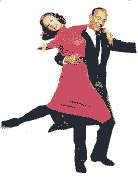 Fred Astaire and Cyd Charisse bring Silk Stockings to life, a remake of Ninotchka, one of many films successfully turned into musicals by the Hollywood dream factory. Read all about remakes into musicals by clicking on the divine dancers.
---

Take a look at the merry images of America's gift to the movies: Hollywood Musical Posters are featured from The Movie Poster Archive.
---


A Star is Born/A,B



Judy Garland is brilliant in the great Hollywood tale of one star on the rise and another sliding into the abyss. James Mason is wonderful alongside Judy.


Have you visited Home Theater Talk lately? One of the friendliest places on the Net for Home Theater and DVD discussion, you can get help for installation problems or simply share your opinions with other Vidiots.
---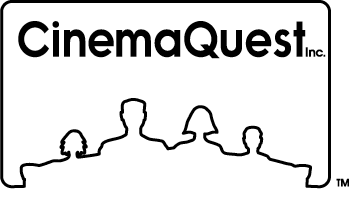 "Products and services perfecting home theater"
ISF Calibrations in Colorado, 6500K monitor bias lighting.
---
MRQE
Find reams of movie and DVD reviews at the Movie Review Query Engine, a index of reviews appearing on the Internet.
---


Mystery writer Fred Hunter digs into classic films on DVD. Check out his insightful reviews at The Classics on DVD.
---

Large variety of movie posters for sale now specializing in Polish and Japanese paper. Easy interface and a Soho gallery storefront.
---


Great site for DVD followers. Lots of information, some speculation, opinion, and reviews all bundled in a sparkling interface.
---