Spy Game/ B-,A
Universal/2001/127/ANA 2.35
Spies are not born, they're made. Spy Game basically takes that premise and runs with it, all over the place. The episodic nature of Spy Game makes it a difficult mission. Flow is constantly impeded. There's something patently false about all the CIA conference room machinations. There's also a lack of balance between the segments. It's not that one is so powerful that's it overshadows the rest; it's more that the fragments fail to build upon one another, which is clearly the exercise the script had in mind.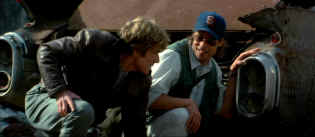 Posed as Butch and Sundance? ŠUniversal
On his last day at the CIA Nathan Muir gets a Hong Kong wake-up call. Tom Bishop, an agent closely associated with Muir is in trouble. When Muir arrives at CIA headquarters in Langley, he's not surprised when unctuous superior Charles Harker greets him with a request for Bishop's files. Muir gets pulled the situation even as he contemplates delights of sunny retirement.
Locations from Vietnam to Germany to China to Beirut are bound by a thin thread at CIA headquarters. A political chess game is in play as Muir dances around the board avoiding full disclosure to his superiors. The expository anchor that gradually reveals the Muir/Bishop relationship simply weighs down the narrative.
The Vietnam segment is symptomatic of the problems of the script. It's uninvolving. You never get a chance to understand the characters. There's no chance to feel the place and time. The audience is dropped into Vietnam with the same nonchalance of a helicopter dumping psy-op leaflets. Beirut runs long and out of balance with the other segments. China plays strong and Berlin plays boring.
Robert Redford fails to find a sharp edge that would make Nathan Muir a more compelling character. He may banter with cynical dialogue, but it rings hollow. Brad Pitt turns up the boyish charm for Tom Bishop to an artificial degree, especially in his scenes with Redford. One supposes the filmmakers would have loved to find a Butch/Sundance chemistry between Redford and Pitt, but it's nowhere to be seen. Supporting roles are poorly developed
Spy Game is a fine production. It's very well filmed. The excellent cinematography attempts to define various locales with distinct lighting tones and this works quite well. Production design is meticulous. Director Tony Scott injects good movement and energy into the film, but the script is a heavy chain impeding the director's nimble instincts. It plays with the same off-putting self satisfaction which is the chief characteristic of Muir's adversary Charles Harker.
Spy Game tries desperately to be hip. The music has a hip beat, the dialogue dangles hip, but the sum is not hip. The staging at Langley is stiff. I am not even sure that the core premise is reasonable. Why are they bothering to build a psychological profile of Tom Bishop? The sum of its shortcomings is that Spy Game fails to build a consistent tension. It plays very evenly with no crescendos.
The elegant production has been turned into a beautiful Spy Game DVD. Blacks are deep and richly defined accompanied by fine shadow detail. Contrast range is excellent. Light output is powerful in every situation. Color is very accurate. No evident artifact motions even in difficult camera pans. Image depth is created through fine rendering of detail. Reproduction of textures is very pleasing with extremely stable small details. The operations and conference rooms are delivered with a beautiful range of detail. Minor evidence of high peak transition ringing, but the overall verdict is not guilty. Grain is well-handled in the long-lens shots. Lighting is excellent through all the varied schemes. Nice open DTS 5:1 presentation with fine, aggressive directionality. Tight bass impact.
Universal has cloaked Spy Game with special edition armor. Separate commentaries from director Tony Scott and producers Marc Abraham and Douglas Wick are included. There are also deleted scenes and alternate versions with director Tony Scott commentary. Scott also gives insights into the script-to-storyboard process and his process of thought. The clandestine ops feature allows you to access scene specific details about the filmmaking process while watching the feature. If you're looking forward to more spy stuff, the trailer for Universal's new thriller The Bourne Identity is included too.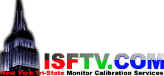 ISF Monitor Calibrations in the Tristate New York area. Lots of hardware info and frequent hardware peaks from video expert Kevin Miller. They may be judgmental, but that's the point, isn't it. Lots of DVD reviews plus news and more.
---

The Cinematheque is a cultural, arts organization that programs year-round specialty film series at the newly renovated, landmark 1922 Egyptian Theatre on Hollywood Boulevard!
---

Have you visited Home Theater Talk lately? One of the friendliest places on the Net for Home Theater and DVD discussion, you can get help for installation problems or simply share your opinions with other Vidiots.
---

The Movie Poster Archive includes extensive poster images from the films of stars like Susan Hayward, Kirk Douglas, Katharine Hepburn and many more. Our featured star is Tyrone Power.
---


Runaway Train/B+,B



From an Akira Kurosawa screenplay. Jon Voight is fantastic as fierce habitual criminal Oscar "Manny" Mannheim. A smile to remember with ferocious non-stop action.
---


Selections from the Feature Archive include articles on Akira Kurosawa, Blonde Bimbos, Frank Darabont, Steven Culp, John Herzfeld or Vietnam: The Hollywood Pariah, and many more....
Director Walks the Wire


Balanced by an armor of movie lore and filmmaking daring, director John Herzfeld is comfortable walking the high wire. Check out this interview by Stu Kobak.
---