Shrek (SE)/A,B+
Dreamworks/2001/93/ANA 1.85
Shrek is a wonder of twisted imagination brought to animated screen life with enough sophistication to turn rival studio heads green with envy. Turning fairy tale elements upside down and inside out, the creators of Shrek have adorned their script brilliant animation, savvy casting and a hip score. It's can't miss entertainment aimed adeptly at both adult and kid audiences.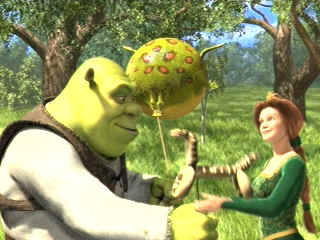 Romance is in the air. ©Dreamworks
Conventions are accepted and upended with precise alacrity from the opening sequence of a traditionally crafted fairy tale book being read and turned page by page. What a surprise when we discover that Shrek, an ogre of the first order, is the reader. Shrek's utter repugnance is crafted with graceful animation strokes.
The ogre lives in a swamp on the edge of Duloc ruled by the height deprived Lord Farquaad. When Farquaad begins an odious purification of Duloc by banishing all traditional fairy tale creatures, they wind up cowering for shelter in the dark swamplands. With his privacy disturbed, Shrek becomes embroiled in Lord Farquaad's quest for a legitimate crown. It seems that Farquaad's magic mirror has suggested imprisoned princess Fiona as Farquaad's bride to legitimize the title of king for himself. Shrek inadvertently upends Farquaad's tournament to choose a champion to free Princess Fiona from her tower perch in a faraway castle guarded by a fiery dragon. Shrek agrees to champion Farquaad's quest with the understanding that Farquaad will return the fairy tale creatures to Duloc thereby liberating the ogre's fetid domain. Accompanied by an itinerant talking Donkey, the ogre sets out to free the princess.
At the castle, Shrek and Donkey must face the challenge of the dragon and make a hasty exit with Fiona. The princess has some firm ideas of what protocols should be observed in saving her. On the return to Duloc, Shrek and the princess are in for some emotional surprises. Donkey adds some lively patter to the return journey and a surprise breakfast and a starlit barbeque add to the charming adventure, not to mention a hilarious encounter with another famous character.
The wedding bells are poised to chime when Fiona arrives in Duloc. Shrek returns to the swamp under a cloud of disenchantment and it's up to Donkey to make sure that this fairy tale ends within the bounds of fairy tale tradition.
The animation is uniformly fabulous. The creatures move with robust cartoon reality. The art concepts are likewise terrific. Directors Andrew Adamson and Vicky Jenson have put together the elements in grand style. The film works on virtually every level. Shrek is sure to enchant you with its unique spell.
Shrek is voiced by Mike Myers with more than a touch of his Fat Bastard character from Austin Powers: The Spy Who Shagged Me. Myers manages impatience and charm, crudity and sensibility with surprising ease. Eddie Murphy swings his sassy backside with irreverent poise as Donkey. Fiona gets a feisty independent voicing from Cameron Diaz and Farquaad is intoned by John Lithgow.
For an animated film, Shrek features a huge range of lighting schemes. The DVD handles them in smart effective fashion rendering subtle shading and shadows with lifelike dimension. Part of Shrek's animated success is shading incorporated into all of the character movements and the DVD duplicates it reverently. Color is meticulously controlled. Shrek's ugly green skin never bleeds onto blue sky backgrounds. Depth is often remarkable. Even something as inconsequential as Farquaad's proclamation displays amazing depth of detail in the texture of the material and the blue F positively jumps off the sheepskin scroll. Resolution is hilly trip. The ups are segments when the animation is transferred with splendid resolve, but unfortunately the soft focus downs prevent Shrek from reaching reference heights. The Dreamworks package provides a choice between DTS and Dolby Digital sound. The DTS version is bravura sonic recording. The bass is controlled to magical effect. The impact of the dragon's wings moving air is incredible. Ambience is created with precise location of sounds, yet an airy feeling maintained.
The 2 DVD special edition includes extras of Shrekian proportion. With a smattering of information on every aspect of production, there's little you can't learn about Shrek. Disc one includes an HBO making of featurette plus some charming short character interviews. There are also a couple of simplistic games. The hilariously energetic Shrek short is included on both discs. Disc 2 includes audio commentary from directors Vicky Jenson and Andrew Adamson and producer Aron Warner. There's a story board presentation, a 22 minute featurette The Tech of Shrek, a small section of Technical Goofs, and an insubstantial dubbing featurette. The evolution of the main character animation is presented in a Progression Reel.


Selections from the Feature Archive include articles on Akira Kurosawa, Frank Darabont, Blonde Bimbos, Hollywood Street Gangs, or Vietnam: The Hollywood Pariah, and many more....
Sturges Emerges



Preston Sturges was Hollywood's resident comic genius for more than a decade. His movies are timeless. Click on his image to read all about it.
---

The Movie Poster Archive includes extensive poster images from the films of stars like Susan Hayward, Kirk Douglas, Katharine Hepburn and many more. Our featured star is Cary Grant.
---


The Adventures of Baron Munchausen/A,A-



Director Terry Gilliam's richly detailed interpretation of the outlandishly imagined and fabricated exploits of the legendary eighteenth-century German adventurer and storyteller.
---

Click on the DVD MIA symbol for profiles of DVDs missing in action.
Add films to the DVD MIA Master List by filling out a simple form. Click Here
---

---



The Cinema Laser
A home grown magazine for laserphiles that has been publishing for a number of years and has embraced DVD in a big way. Lots of helpful information.
---


DVD links, information about Web specials, news, Site reviews.
---

ETEKNet is the web's only 24-hour, totally FREE source for all your home theater, DVD, Dreamcast, PC, and Networking tech support needs!
---
Avid-Collector Posters



Great selection of big foreign paper, plus the home of J. Fields linen service.
---


Great site for DVD followers. Lots of information, some speculation, opinion, and reviews all bundled in a sparkling interface.
---