Sexy Beast/ B+, A-
Fox/2001/89/ANA 2.35
Sexy Beast may start out with a hip, rye tone, but you best prepare yourself for some extreme violence. It's not gratuitous violence, but it's shocking, in your face, and stomach-knotting. In contrast to the languid, oily, hot, opening, when Sexy Beast explodes the result is endless reverberations in the blue water of the tempting swimming pool. The film goes so far to catch you unawares that it almost starts out like a slightly skewed commercial for a tourist paradise.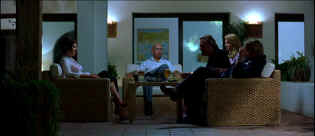 The guest from Hell. ©Fox
Gal Dove is living the British gangster dream of retirement on the sunny coast of Spain with his wife Deedee. Buddy in crime Aitch and his paramour Jackie are their constant poolside companions. That's the sunny part. But a cloud is coming. Former cohort in crime Don Logan wants Gal for one more job. He's coming for a nice social visit to iron out the details. Gal is determined not to go back to the old life. Don wants his way. The character collision is one you will remember forever. Don doesn't take "no" for an answer lightly. Don Logan is a walking stick of nitro.
There's something about Sexy Beast that merges old style gangster films with modern filmmaking sensibilities. It's a great match. Rapid fire dialogue ricochets around like sprayed bullets from a machine gun. The lean script by Louis Mellis and David Scinto is embellished by fine production elements. The nightmare sequences have a surreal flare. They are out there, on the edge, like much of this fine film. The assortment of formidably dangerous characters play out a rough and nasty nightmare. Director Jonathan Glazer keeps Sexy Beast moving at a gallop. It's intense direction driven by first-rate editing. Scenes intercut with only small doses of violence accentuate the impact. Cool production design and slick photography make Sexy Beast come to sweaty life. The music drives the plot well with a cocky beat.
Ben Kingsley is amazing as Don Logan. He charges into the scene like a gored bull thrusting horns in every direction. I have never seen anything close to this from Kingsley. He must have loved doing this part. It almost makes you want to smile, but you soon forget that. Ray Winstone's Gal may not be as flashy a performance as Kingsley's Logan, but it's every bit as good. Winstone has a wonderful screen presence. You should look forward to catching him in Fred Schepisi's very fine flick Last Orders which should hit DVD in the third quarter. Teddy Bass is the third dangerous character. Ian McShane's heavy-lidded, lined face, with slicked black hair and ice cold blue eyes is a riveting presence. Teddy means business.
Overall very good color saturation. Wonderful blue skies. Excellent detail. Fleshtones are natural. Subtle details are easily discerned. Check out the range of brunette highlights in Deedee's hair. Black levels are outstanding with fine shadow balance. Night lighting is simply gorgeous. The patio scenes are sparkling with illumination from the pool glowing seductively. Light output is powerful. You practically have to squint in the sunlight. The combination of speedy dialogue delivery and the heavy cockney accents make it difficult to follow at times. The early going was tough for me and I resorted to turning on the subtitles to follow the rapid fire delivery. Good bass beat delivered in tight rhythms on the Dolby Digital 5:1 surround. .
Bonus features on this Sexy Beast special edition include audio commentary by Ben Kingsley and producer Jeremy Thomas. There's also a featurette.


Selections from the Feature Archive include articles on Akira Kurosawa, Frank Darabont, Blonde Bimbos, Hollywood Street Gangs, or Vietnam: The Hollywood Pariah, and many more....

Film noir: The phrase hangs awkwardly on the tongue, shadowy images peek out from behind half-closed doors. Click on the Noir and Noir Again symbol for a look into the dark spaces of Hollywood's revisiting of film noir
---

The Movie Poster Archive includes extensive poster images from the films of stars like Susan Hayward, Kirk Douglas, Katharine Hepburn and many more. Our featured star is Richard Widmark.
---



Manufacturer of computer-video interfaces, switchers, distribution amplifiers, computer-video scan converters, and high resolution cable. Found in many high end home theater systems.
---
Werner Herzog Film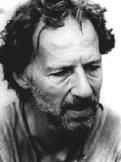 The Web site of director Werner Herzog includes lots of great material. A perfect stop for anyone who admires his films.
---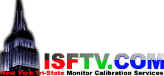 ISF Monitor Calibrations in the Tristate New York area. Lots of hardware info and frequent hardware peaks from video expert Kevin Miller. They may be judgmental, but that's the point, isn't it. Lots of DVD reviews plus news and more.
---

Have you visited Home Theater Talk lately? One of the friendliest places on the Net for Home Theater and DVD discussion, you can get help for installation problems or simply share your opinions with other Vidiots
---
.


Mystery writer Fred Hunter digs into classic films on DVD. Check out his insightful reviews at The Classics on DVD.