Seven Year Itch/C+,B+
Fox/1955/110/ANA 2.55
The Seven Year Itch hardly worth the effort to scratch. There is Marilyn, of course, shaking her fanny, exposing her gams and performing at her breathtakingly sexiest. That alone makes parts of the flick worth digesting. Still, the movie is a tired, static adaptation of a hit stage play about New York's summer "bachelors." When the wife's away the guys will play is the somewhat smutty starting point for a plot more like a rash that an itch.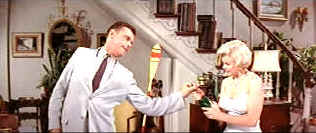 The best vintage in this film in Monroe. ©Fox
I found The Seven Year Itch to be extremely dated. Richard Sherman is a mousy executive left with fantasies to sustain himself while his family sojourns upstate for the summer. The summer heat wave turns into a search for a cooler place when a hot blonde sublets an upstairs apartment. There's a licentious scent that pervades every leering scene. Sherman invites her in for a drink with lascivious bumbling and the brassy blonde wiggles her way into his apartment which has air conditioning, a not yet standard luxury in 1950's New York. Whatever can you make of the blonde?' Is she ready to bed down for nothing more than a cool breeze? Or is there some other strange motivation that lures her into his apartment? Air conditioning? Can you really seduce a dish with curve from New York to New Jersey with a rush of cold air? Not likely, even in this middling fantasy of mid-life crisis.
There are some funny moments. After all, this is directed by Billy Wilder, but Wilder seems released from the trap of the stage play only when he and the camera are busy ogling Monroe.
Monroe is a delicious dish. Every time she's on the screen the stiff plot comes to life, but Tom Ewell is a major annoyance from start to finish. If Ewell doesn't get on your nerves, the adaptation of the successful stage play may not be such a disappointment.
The blonde lighting of Monroe's screen appeal strikes powerfully in this DVD transfer. Source elements are in excellent condition. Other than some slight pulsing at scene transitions, the color is vital and fresh with stable saturation. You don't need a lot of detail to appreciate Monroe, but the DVD is sharp enough to check out her measurements and even count the blonde hair from various positions. There's not much subtlety to the photography. It a straight up New York cocktail mostly confined to apartment interiors. The contrast range packs plenty of punch. The Dolby Digital surround is presented in 3.0 stereo with dialogue crisply enunciated.


Selections from the Feature Archive include articles on Akira Kurosawa, Frank Darabont, Blonde Bimbos, Hollywood Street Gangs, or Vietnam: The Hollywood Pariah, and many more....



Screen Voices and style of delivery often stamp an actor's screen image indelibly. Click the lips to read more.
---

The Movie Poster Archive includes extensive poster images from the films of stars like Susan Hayward, Kirk Douglas, Katharine Hepburn and many more. Our featured star is Lana Turner.
---


Annie Get Your Gun/A,A-


Irving Berlin's brilliant musical gem is polished and preserved on this Warner DVD release. An explosion of music, song, dance and color.
---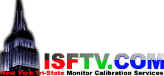 ISF Monitor Calibrations in the Tristate New York area. Lots of hardware info and frequent hardware peaks from video expert Kevin Miller.They may be judgmental, but that's the point, isn't it. Lots of DVD reviews plus news and more.
---

Have you visited Home Theater Talk lately? One of the friendliest places on the Net for Home Theater and DVD discussion, you can get help for installation problems or simply share your opinions with other Vidiots.