Seven (SE)/B+,A
New Line/1995/127/WS ANA 2.35
Seven is an excellent film which is standing up well in light of the dismal state of new Hollywood films. Aside from the sensationalist crime staging, Seven is a character driven film featuring intelligent dialogue and some fine acting turns. The new DVD captures the dark nature of the material and images with outstanding clarity.
Writers love the seven deadly sins. Serial killers Xeroxed from the pages of the National Inquirer make their way to celluloid exposure with dreadful regularity. What separates Seven from the run of the thrill mill is the care the script takes in examining the characters. They are fully realized human beings, set up for the fall with frailties understood through natural interaction. Director David Fincher takes great pains to create a dark world, a reflection of Hell or Purgatory through which his characters must somehow survive. Fincherís exceptional focus on detail dresses Seven with a consistently ominous nature, unrelenting in its look at evil. This is both a strength and weakness of the film, since, for many audiences, the darkness of Sevenís vision is difficult to accept.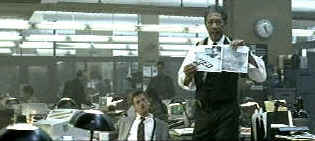 Somerset puts the pieces together. ©New Line
The three central performances of Seven are wonderfully balanced. Morgan Freeman once again brings his magnificent sense of humanity to the screen in his characterization of Detective Somerset. Somerset, the seasoned veteran set to retire in a week is the perfect guide for young detective David Mills. Brad Pitt is excellent as David Mills. The textures of his performance are perfectly tuned to Freeman's Each enhances the other. Pittís performance is revelatory, full of innocence, pain, arrogance and desperation as the cop newly transplanted to a big city police force. Kevin Spacey plays serial killer John Doe with an evangelistís confidence. By the time Spacey makes his appearance, director Fincher has built a perfect case to establish the character that Spacey presents.
Fincherís success with Seven is a tribute to an uncompromised vision. The pacing is contemplative, but never drags. His work with director of photography Darius Khondji is breathtaking. The details realized from the production design of Arthur Max is stunning. Seven is part buddy movie, part procedural, part suspense thriller, part horror flick. Under Fincherís unifying hand, Seven weaves itís spell with a consistency of look, point of view and characterization. Viewers should be prepared for graphically detailed recreations of the horror of Seven.
Talk about a knockout special edition, Fincher and the New Line team have made a splendid effort to analyze and dissect Seven from multiple points of view. Four audio commentaries accompany can be accessed while watching the feature. Each is dedicated to a different aspect of the film. Track one features Fincher and stars Morgan Freeman and Brad Pitt as they watch the film. Listening to Freeman speak is a treat in itself, and his intelligent observations are only a bonus. Fincher is astute as you would guess given his filmmaking talent. Brad Pitt is thoroughly enjoyable as well and the interaction between these three dynamic personalities makes for a stirring commentary. Track two is hosted by Richard Dyer, author of BFI Modern Film Classic Series' Seven. Dyer analyzes the cop thriller genre while piecing together recorded comments from Fincher, screenwriter Andrew Kevin Walker, editor Bruce Richard-Francis and New Line's President of Production Michael De Luca the script and the project history. A third commentary is led by Dyer with Fincher, Francis-Bruce, director of photography Darius Khondji and production designer Arthur Max expound on the look of Seven. Yet a fourth commentary examines the sound track, music and effects, with Dyer, Fincher, composer Howard Shore and sound designer Ren Klyce. You can switch between commentaries on the fly. If that's not enough, the second DVD in this two-disc special edition examines varied aspects of the film from an analytical point of view. There are deleted scenes, extended scenes, alternate endings, photos from the John Doe collection, John Doe's notebooks, promotional materials, filmographies and a most interesting demonstration of elements of mastering for home theater.
As good as the laser disc special edition of Seven appeared, this DVD presentation is even more stunning. A new transfer utilizing HDTV resolution has been made on the latest equipment. The result is a very sharp image in all lighting situations with no ugly edge enhancement artifacts. The color is as true to the artists' vision as possible. The big bonus of the new transfer is significant more control over light output. Some of the dark and mushy sequences are significantly brighter without sacrificing the mood or effectiveness. The various scenes using flashlights to examine the grisly crime scenes are especially effective. The beams of light still maintain are eerie glow, but details in those scenes are now more discernible on the DVD presentation. New Line provides both Dolby Digital ES 5:1 and DTS ES Discrete 6:1surround tracks. I preferred the Dolby mix finding a little too much reverberation in the and dialogue raspiness in the DTS decoding. The new mix is splendid, delivering details with pinpoint location with subtle output. This is a soundtrack mix to send chills up your spine.



Bound/B+,A-
Before the Wachowski Brothers brought The Matrix to life, they explored the darker side of human nature in this delicious, malicious little flick.
---

The Movie Poster Archive includes extensive poster images from the films of stars like Susan Hayward, Kirk Douglas, Katharine Hepburn and many more. Our featured star is Richard Widmark.
---


Selections from the Feature Archive include articles on Akira Kurosawa, Frank Darabont, Blonde Bimbos, Hollywood Street Gangs, or Vietnam: The Hollywood Pariah, and many more....



Click on the image of The Heistmasters for an interesting feature on the tough guys that pull off the big jobs.
---


Have you visited Home Theater Talk lately? One of the friendliest places on the Net for Home Theater and DVD discussion, you can get help for installation problems or simply share your opinions with other Vidiots.
---
Brad Lang continues to add more interesting material to the extensive collection at Classic Movies. Everything from actors and actress to your favorite directors is linked at the site.
---


A self-proclaimed bastion of irreverence place where Joe Public smacks the heck out of the studio execs that treat us like cattle.
---


Classic Images on classic films, featuring news, reviews, obituaries, film convention reports, and detailed articles on film people, from the most famous to the most obscure
---


The Films2 website contains Films2.com is a comprehensive film website, providing a searchable shop of new and archived video and region 2 DVDs to buy. You can check local cinema listings, read the latest film news, reviews and gossip, and see the latest film trailers.
---


The home of John Tisch's invaluable Poster Price Almanac. Every serious poster collector uses the Almanac as a reference.
---