Serendipity (SE)/ B, B+
Miramax/2001/91/ANA 1.85
Serendipity starts out oozing New York charm. How can you miss with big white snowflakes floating against a Manhattan night sky; candy-colored straws and attractive deserts at a landmark Manhattan sweet shop? There's a charming John Cusack and an adorable Kate Beckinsale making romantic sparks fly. Unfortunately, most of the film is spent in their separate stories.
Jonathan meets Sarah at a Bloomingdale department store counter at the height of the holiday season. Brought together by chance, they spend a delightful evening together. Both are already romantically involved. But, just as a chance meeting brought them together, Sarah believes it's fate that should determine their future. That translates into two separate stories evolving about Jonathan and Sarah trying to get back together. Too bad. The initial chemistry was wonderful and it's disappointing that these characters wind up spending so little screen time together.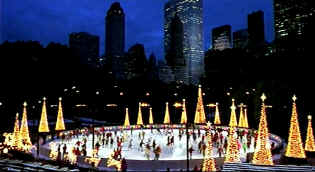 A perfect New York romantic scene. ©Miramax
Director Peter Chelsom paces the film effectively, moving from coast to coast and story to story. Chelsom uses some nice technical flourishes for his transitions instead of the traditionally pasted together montages. They work very well.
The film plays very much like the title: the word serendipity kind of floats in the air on a bunch of high notes lightly blowing in the breeze. It's a nice film. It's not deep, it's not hilarious, some of it's a little obvious, but it's charming, always charming.
Cusack and Beckinsale, as mentioned earlier, are both very good at light comedy. The assortment of supporting characters provide some good moments to fill in the long, blanks between core romance. The scene in Bloomingdale's when Jonathan is trying to find the account number is very funny. Eugene Levy is a great Bloomie's salesman.
Serendipity is one of those film's that truly depends on the timing of the wind and how it blows, how it blows in the market place, how it blows through the home theater; it's a mood dependent film with a frail quality. In the end, it works very nicely.
Serendipity tries to paint a wonderland picture of New York City from the very beginning. The color is truly delightful from from the candy-colored rendition of deserts at sweet shop Serendipity to the beautiful patterned over jacket Sarah wears. Background detail looks very good. Natural looking skin tones and beautiful flowers. Overall light output is excellent. Blacks are terrific, showing off the skylines to a tee. Overall, Serendipity has been turned into a very cinematic looking DVD. It's smooth looking with good detail.
Serendipity is packaged as a special edition featuring audio commentary by director Peter Chelsom. Deleted scenes also get Chelsom's observations. The a behind the scenes documentary and Chelsom's production diary. A stills gallery, storyboard comparisons and a theatrical trailer complete the package.
Reviewed on a Sharp XVC-9000U DLP Projector


Selections from the Feature Archive include articles on Akira Kurosawa, Blonde Bimbos, Frank Darabont, Steven Culp, John Herzfeld or Vietnam: The Hollywood Pariah, and many more....
Nobody's Perfect




Billy Wilder left movie lovers a legacy of cinematic treasure. From defining Film Noir to outrageous comedy, writer/director Wilder delivered the goods with consummate style.
---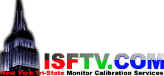 ISF Monitor Calibrations in the Tristate New York area. Lots of hardware info and frequent hardware peaks from video expert Kevin Miller. They may be judgmental, but that's the point, isn't it. Lots of DVD reviews plus news and more.
---

Have you visited Home Theater Talk lately? One of the friendliest places on the Net for Home Theater and DVD discussion, you can get help for installation problems or simply share your opinions with other Vidiots.
---


Manufacturer of computer-video interfaces, switchers, distribution amplifiers, computer-video scan converters, and high resolution cable. Found in many high end home theater systems.
---

Sight and Sound Magazine is the venerable voice of The British Film Institute. The site includes articles and film reviews. A great resource in print and on the Internet.
---


Lady Eve, The (SE) A,C+



Wonderful classic comedy from writer/director Preston Sturges. Henry Fonda and Barbara Stanwyck star.