Score, The (SE)/ B+, A-
Paramount/2001/124/ANA 2.35
The Score has the makings of a great heist flick. It's very good but it fails to capitalize on the polished precision banked in its earliest scenes. The characters are interesting. The set-up has been done before, but coupled with the players, it moves two rungs up. One last job and so forth. Older crook and young crook butting heads. So what if it's been done before.
Nick is the sophisticated professional who owns a Montreal jazz club and funds his passions with methodical criminal pursuits. He's a top notch burglar. Max is the beefy fence who has worked with Nick twenty-five years, feeding him jobs and disposing of the booty. Jack is the new kid in town with a career capping job in need of Nick's expertise.
Director Frank Oz does a great job detailing the mechanics of the opening burglary. It's elegant and economical. I felt myself holding my breath. He's great at establishing character with visual power. Even the Montreal setting is delivered with consummate efficiency.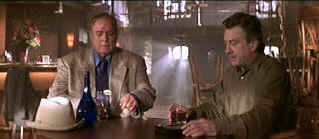 Max tempts Nick. ©Paramount
Robert DeNiro is rock solid as Nick. The actorís own professionalism melds with the character. Part of the problem is that Nick is too good to let things go where they go. Yes, the script cleverness deals with that, but itís not the way it would have gone down. Edward Norton stands toe to toe with DeNiro in The Score, delivered an interesting performance. Brando's Max, a fat and sweaty world-weary eccentric adds a nice touch to the mix. Angela Bassett has a supporting role as Diane, Nick's stewardess lady friend. She's excellent as always. I really wanted more of her relationship with Nick. I felt slightly cheated. Oz was probably right in keeping the relationship sketchy, but I sensed there was very good potential left under the sheets.
Beautifully shot by cinematographer Rob Hahn. Very shadowy film. Frank Oz paces it well. Oz is a director who communicates a love for his work on the screen. Thatís a pretty high compliment. He can tell a story, set a scene graphically and heís not too showy.
More Jazz please. Nick's a jazz club owner. The music fits very well with the material. How come the film score did not capture that flavor. It was have given it a more interest accompaniment.
This one sports an excellent transfer. Tough, tough material. Itís so dark. I remember seeing it in the theater and thinking, this will be a toughie for DVD. Paramount scores with The Score. Itís like a polished mahogany furniture. It retains its dark beauty but shines proudly. The images are very sharp. You can look into the eyes of any characters and sense their process. All the elements of the production design get proper exposure through the outstanding resolution. The active lighting of DP Hahn fairs very well. Shadow detail is consistently excellent. Color is dead nuts on and blacks are lustrous.
There's a twelve minute making of featurette. How about a five minute Brando/DeNiro improv doing a small scene on three alternate takes? Short but bracing. The commentary by director Oz and cinematographer Rob Hahn is excellent. It's technically oriented, but integrates observations with story points well. The DVD commentary was recorded in July a couple of days after The Score opened theatrically.


Selections from the Feature Archive include articles on Akira Kurosawa, Frank Darabont, Blonde Bimbos, Hollywood Street Gangs, or Vietnam: The Hollywood Pariah, and many more....



Click on the image of The Heistmasters for an interesting feature on the tough guys that pull off the big jobs.
---



Glenn Erickson's insightful DVD reviews have been a Internet fixture for several years. Check out some of his sophisticated feature articles. Currently hosted by DVD Talk.
---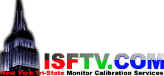 ISF Monitor Calibrations in the Tristate New York area. Lots of hardware info and frequent hardware peaks from video expert Kevin Miller. They may be judgmental, but that's the point, isn't it. Lots of DVD reviews plus news and more.
---
---


Everything you wanted to know about animation on DVD. Reviews, news, forum. Webmaster Chris Beveridge.
---


Mystery writer Fred Hunter digs into classic films on DVD. Check out his insightful reviews at The Classics on DVD.
---


Excellent resource for movie review links, with many early looks.
---


To Kill a Mockingbird (SE)/ A,A



From the great novel by Harper Lee, this tale of growing up in the 1930s South is splendidly evocative of place and period. Gregory Peck is splendid. Direction impeccable.
---