Rush Hour (SE)/C+,A
New Line/1998/97/ANA 2.35

Jackie Chan is still trying to find the right formula for the American movie market. Rush Hour teams him with motor mouth Chris Tucker as two detectives trying to save a young Chinese kidnap victim. Their motivations are as diverse as their personalities. The eleven year old girl is the daughter of the Chinese Consul newly arrived from Hong Kong for a life in the United States. Jackie is brought over by the Consul in a desperate attempt to bolster the forces of the FBI team. And Tucker, he's the LAPD cop who's supposed to keep Jackie away from the action. Good choice guys!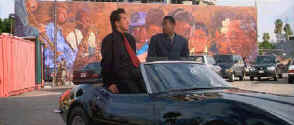 Jackie and Chris , a new buddy concept. İNew Line
Rush Hour tries hard to capitalize on comic chemistry between it's two stars. They are certainly a contrasting pair. Tucker's hyper-kinetic animation emanates from mouth and body while Jackie quietly charms and gracefully jumps through the paces of action hero. Unfortunately, Rush Hour is short on the stunts that are signatures of Jackie Chan vehicles. The story is okay, but the focus is more on the Tucker/Chan relationship. The excellent Tom Wilkinson is wasted in the villain's role. In fact, a good villain is something sorely missing from Rush Hour.
Director Brett Ratner has a good visual style but he seems like his vehicle runs rather out of control through this Rush Hour. He does convey a sense of fun tot he proceedings and this helps salvage the limited story line. The Lalo Schifrin score is lively and helps propel the action. Adam Greenberg's photography is appropriately glossy.
This DVD from New Line has reference written all over it. The source material is perfect for transfer to video. The snappy photography is transferred as slick as a glossy magazine page. The anamorphic image is consistently sharp. The comic book colors are exciting and dynamic. And it's a packed special edition DVD as well. Director Brett Ratner provides one audio commentary and composer (Peter Gunn) Lalo Schifrin provides an additional commentary over an isolated score. There are deleted scenes, a featurette, a music video and a student film that helped launch Brett Ratner's career. On the DVD Rom front, Rush Hour offers some additional special features for the PC. Any scene can be accessed directly form the screenplay. You can print any part of the screenplay, there's an interactive game and lots more info on Jackie Chan and Chris Tucker. Huzzahs to New Line.


Selections from the Feature Archive include articles on Akira Kurosawa, Frank Darabont, Blonde Bimbos, Hollywood Street Gangs, or Vietnam: The Hollywood Pariah, and many more....
Capturing Kennedy



Steven Culp extracts the essence of Robert F. Kennedy in Roger Donaldson's outstanding feature Thirteen Days. Culp recently shared insights on the performance and his career with Films on Disc. Click the image for more.
---


Gary Morris's insightful publication Bright Lights Film Journal turns the celluloid in films from a unique perspective. Click on the image above for more pure movie views.
---


Nearly 40 key software and hardware companies representing leading consumer electronics giants, major movie studios home video and music video units have joined forces to establish the DVD Video Group.
---


DVD Easter Eggs
How do you take them? Fried or scrambled. Get the secrets here.
---


Excellent resource with DVD reviews, forum and more.
---