Romper Stomper (SE)/B,B+
Fox/1992/93/ANA 1.85
It's skinheads versus the world Down Under. Romper Stomper, a demented, violent film is photographed in extremely hostile kinetic style. Brutality is unrelenting, the violence shockingly ugly . Make no mistake: this is very frightening material from Australian writer/director Geoffrey Wright.
Romper Stomper pits an Aussie gang of toughs against immigrant Vietnamese youths. Do the gangs form as protection against a hostile environment? I am not sure what to make of Romper Stomper. Is this a warning call about today's disaffected youth? There are no redeeming characters in Wright's ugly picture; just an array of pathetic, abused, damaged and deranged young folks colliding in a horrifying universe.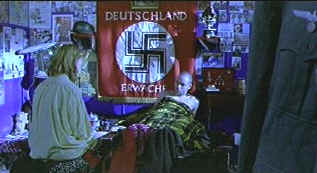 The haute skinhead decor. ©Fox
Hando is the leader of an ethnocentric neo Nazi gang living in Melbourne. Whether cozied away in their warehouse digs or roaming the streets in search of trouble, violence is second nature to these youths. An improbable love triangle erupts amidst the violence when Gabe, a disaffected rich girl falls in with the gang. Davey, worshipping Hando's every kick, falls hard for Gabe as he watches Hando bed the girl and ultimately throw her over. Davey, the "sensitive" skinhead, agonizes over his choices: stomp on immigrants in a blood ritual of the brotherhood or break the mold and give in to his romantic pining.
Painted in blood red strokes, Romper Stomper is one of the most horrifying gang canvases ever captured on film. Fueled by a vision of hate and fear these kids will surely become the motorcycle madmen of George Miller's dark apocalyptic road movies, Mad Max and The Road Warrior. When the toughs slip there way into a rich man's home, you can't help think of Stanley Kubrick's A Clockwork Orange, but Wright's vision is without the horrifying humor of that brilliant film.
Russell Crowe etches a brutal screen portrait of Hando. Crowe's facial muscles are frozen in a vicious snarl. His eyes are reflect the violence and inhumanity of his character. Crowe combines powerful physical presence with an underlying intelligence. In Romper Stomper, beneath the tattooed skinhead is a prancing, pacing animal. Like a panther poised to pounce, Hando is all ferocity and no beauty. Daniel Pollack is effective as Davey and Jacqueline Mackenzie gives Gabe a sad desperation.
The music and sound are appallingly loud and even the editing emphasizes this coldhearted viciousness. Production design is very spare.
As Romper Stomper opens on a dark street, I was astounded by the penetrating clarity of the image. Deep blacks shine in the Australian nights. Leather jackets catch highlights of night light. The reference level is not quite realized over the entire DVD. Some slight edge enhancement creeps in to high transition compositions. The color is very good. Blood or Nazi paraphernalia is richly saturated. Shadow detail is excellent. Contrast and brightness levels help delivers the sharp images with ferocious accuracy. The DTS mix seems a bit bright and over emphasized. It's crystal clean. You need that clarity to understand all the dialogue. The accents are almost tough enough to employ use of the English subtitles. Not quite a cockney horror. Another case where you best lower your audio setting a good five decibels before sitting down to listen to the DTS track in the home theater.
Fox delivers Romper Stomper as a two disc special edition. Director Geoffrey Wright offers his observations in audio commentary on one disc, while disc two has new interviews with Wright examining the film. Also included are 1992 interviews with Wright, stars Russell Crowe, Jacqueline Mackenzie and Tony Lee. There's a very fine demo comparison of the cropped and color uncorrected of the original video release and this new special edition. Side by side comparisons are terrific.


Selections from the feature archive include articles on Akira Kurosawa, Frank Darabont, Blonde Bimbos, Hollywood Street Gangs, or Vietnam: The Hollywood Pariah, and many more....


Movie Rage: Death in the Aisles
Everyone knows what it feels like to get angry at the movies these days. Here's a humorous but not so delightful view of big screen misery.
---



DVDPlanet is the DVD incarnation of legendary laser retailer Ken Crane's. Deep discounts and serious service.
---
Brad Lang continues to add more interesting material to the extensive collection at Classic Movies. Everything from actors and actress to your favorite directors is linked at the site.
---


News, information, features about current films in theaters and in the pipeline. Easy to use interface.
---


The DVD Forum is an international association of hardware manufacturers, software firms and other users of Digital Versatile Discs (the "DVD Format"), created for the purpose of exchanging and disseminating ideas and information about the DVD Format and its technical capabilities, improvements and innovations.
---

The Movie Poster Archive includes extensive poster images from the films of stars like Susan Hayward, Kirk Douglas, Katharine Hepburn and many more. Our featured star is Doris Day.
---