Road to Singapore/ C+,C+
Universal/1940/86/ FS 1.33/BW
Hope and Crosby together at last! The Road to Singapore is the first of their wildly popular "Road" Series. Bob Hope is Ace Lannigan and Bing Crosby is Josh Mallon, a pair of would-be sailors on the loose with a considerable disdain for responsibility. The catch in The Road to Singapore's plot hinges on a fact of birth: Josh Mallon is heir to Mallon shipping fortune and his father, whom he affectionately calls Skipper, wants him to put aside the fancy free life to take on the responsibility of running the huge company.
It doesn't take much to send Josh and Ace packing for exotic waters. A party announcing the marriage of Josh to fast talking blonde socialite Gloria Wycott ends with a bang and before you can say patty cake, the boys are spotted in remote Kaigoon, an Asian island with loose fruit and studio natives. They hook up with a heavy-lidded soporific dancer named Mina.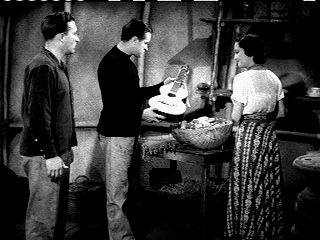 Can you play this thing or can we eat it? ŠUniversal
There are a lots of funny bits and pieces to The Road to Singapore. The signature brawls preceded by the "patty cake" routine provoke smiles with easy silliness. Gordon Wycott, Gloria's inebriated brother is very funny in his couple of scenes. When Ace performs at the shipboard party celebrating the marriage announcement, Wycott asks Josh "Do you think I could hire your friend to perform at a stag party some time?" The easy throwaway humor is typified by Ace's line to Mima: "The first mate's a friend of mine; I used to borrow money from him." It's not hilarious, but it's beautifully delivered but it's possibly the best line in the movie as delivered with Hope's best aplomb.
Hope is very entertaining singing the Captain Custard number. Other songs, like Lamour's Moon and the Willow are very dated and I can't imagine it being good even sixty years ago. Crosby croons Sweet Potato Piper effectively enough, but the song's not that entertaining. Bing and Lamour croon Too Romantic and it's a decent fluff number. The big production number is the native feast. It's about as silly as you can get with Hope and Crosby cavorting in drapery made sarong's in brown face. Why is there a native feast anyway. I guess it doesn't matter. That's the spirit of the road movies. The dancing is purposefully banal spoofing typical Hollywood musicals, but it doesn't play quite funny enough. Crosby gets to some very funny dance steps at the feast at least.
Both Hope and Crosby are consistently entertaining with a free spirit of delivery and excellent chemistry together. It's surprising that Dorothy Lamour survived as a stalwart of the road flicks since in this debut film she's about as entertaining as a dead penguin. It's grand fun to see Anthony Quinn playing Caesar , Mima's whip dancer partner in the Kaigoon bar. He's set up as the villain and there are a couple of patty cake fights with him, but by the film's end his character has faded to little or no importance.
The road movies have a spirit of freedom and fun about them. They are not remotely connected with reality in any sense of the word, and perhaps, owing to their pure escapist point of view, they were very successful as the world engaged in World War II. Whether it's Singapore, Zanzibar, Morocco or Hong Kong, the details aren't important; it's all about the fancy free spirit of Hope and Crosby in the various surroundings. The Road to Singapore is far best "road" movie, but it does set the standards and is fun.
Don't expect great things from the transfer of The Road to Singapore. It's serviceable, but sets no standards. Very grainy in the opening harbor scene. Opening credits look good with good contrast range and black level. The grain is very heavy in rear projection sequences, but that is typical. There's frequent evidence of image instability exhibited by film flashing and element distortion. Image is a little soft here and there perhaps owing to digital cleaning. Excess grain appeared throughout. Scratches and dirt pop up here and there. There are a few full length scratches. There's some moments of jitter and fluttering in the image. The soundtrack got very scratchy toward the later part of the film. Contrast level is good and for the most part The Road to Singapore is sharp.
A fourteen minute short, Bob Hope and the Road to Success, skims the surface of the success of the road flicks, touching on the series but focusing its clips mostly on Road to Singapore. There's also a six minute featurette. Bob Hope and the USO, including a little newsreel footage of Hope at work. Hope biographer Richard Grudens and former co-star Phyllis Diller provide a few snippets of remembrance on Hope's career.
Reviewed on a Sharp 9000VX DLP Projector



The wonderful comedy of Danny Kaye comes from a sweet source, making it live for audiences of all ages. Patter songs and graceful dances are part of Kaye's world. Click on the image for Any Day Danny Kaye.
---

The Movie Poster Archive includes extensive poster images from the films of stars like Susan Hayward, Kirk Douglas, Katharine Hepburn and many more. Our featured star is Cary Grant.
---


Lady Eve, The (SE) A,C+



Wonderful classic comedy from writer/director Preston Sturges. Henry Fonda and Barbara Stanwyck star
---



Glenn Erickson's insightful DVD reviews have been a Internet fixture for several years. Check out some of his sophisticated feature articles. Currently hosted by DVD Talk.
---


Agoraquest is offering reviews, forums, news, and more dedicated to Sony products including, televisions, cameras, audio, DVD, and more.
---


Nearly 40 key software and hardware companies representing leading consumer electronics giants, major movie studios home video and music video units have joined forces to establish the DVD Video Group.
---


Classic Images on classic films, featuring news, reviews, obituaries, film convention reports, and detailed articles on film people, from the most famous to the most obscure
---
Umberto Passini Online



Vintage & Contemporary Film Poster Art. Umberto has developed a fine Internet reputation as reliable and honest. Nice posters too!
---


The National Film Preservation Foundation (NFPF) is the nonprofit organization created by the U.S. Congress to save America's film heritage.
---