Real Blonde/B+,B+
Paramount/1997/105/WS 1.85
New York based writer /director Tom DeCillo knows New York and knows actors. His delightful comedy, The Real Blonde, capitalizes on aspects of both. You can almost smell the city streets as DeCillo captures the beat and feeling of Manhattan in concise, knowledgeable strokes. It's a spoof on marginal actors and their hopes and desires. The trials and tribulations of making it, professionally or in bed, is prime material for comic invention, and DiCillo dishes out his satire with a velvet sword.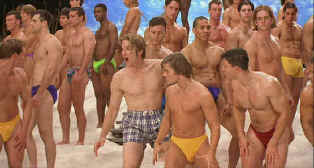 No, it's not a beach blanket movie. ©Paramount
Joe is one of the legion of New York City actors keeping afloat by waiting tables. He's in a permanent relationship with Mary that's in danger of getting lost under the covers. Time is slipping away too quickly. Joe's desperation is showing more wrinkles than his waiter's tux.
Elements of the desperation to succeed are delivered in choice rhythms balanced by visual delight and clever dialogue. Joe's bit part in a Madonna music video is a wonderfully droll. Watching him work as a waiter adds its share of comic pleasure. Mary throws a few wonderful high kicks is learning to defend herself. Supporting characters like Ernst the maitre de and agent Taylor add to the comic texture.
Tom DiCillo has a fine imagination, writes good scripts, and displays the timing of a fine director. The Real Blonde is a natural partner to DeCillo's earlier winner Living in Oblivion, which was about an Indie film shoot. The Real Blonde may actually have more laughs than Oblivion, but it's clearly not as original. Great beat, wonderful rhythms. Matthew Modine stars as Joe. Modine is cast perfectly. He does hapless very well. Indie pro Catherine Keener finds all the right beats for Mary. Maxwell Caulfield has some funny moments as Bob and Elizabeth Berkley is delicious as Tina. Kathleen Turner adds breathy support as agent Dee Dee Taylor. Denis Leary takes some good hits as a self defense teacher..
Excellent transfer although not anamorphic. Images are consistently sharp without excessive edge ringing. Very nice balance of colors. Delicate colors retain their subtleties and bright colors are delivered with punch. Excellent range of skin tones. Good blacks and shadow detail. Lighting preserved in various scenes. Dolby Digital 5:1 surround catches the nuances of the city.


Selections from the Feature Archive include articles on Akira Kurosawa, Frank Darabont, Blonde Bimbos, Hollywood Street Gangs, or Vietnam: The Hollywood Pariah, and many more....



Catch the Hollywood take on Blonde Bimbos by clicking on the image above.
---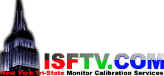 ISF Monitor Calibrations in the Tristate New York area. Lots of hardware info and frequent hardware peaks from video expert Kevin Miller. They may be judgmental, but that's the point, isn't it. Lots of DVD reviews plus news and more.
---


DiscReviews.com is a new DVD review site with a slick interface.
---


Nearly 40 key software and hardware companies representing leading consumer electronics giants, major movie studios home video and music video units have joined forces to establish the DVD Video Group.
---


DVD Easter Eggs
How do you take them? Fried or scrambled. Get the secrets here.
---


Lady Eve, The (SE) A,C+



Wonderful classic comedy from writer/director Preston Sturges. Henry Fonda and Barbara Stanwyck star.
---