Quigley Down Under/B+,B-
MGM/1990/120/ANA 2.35
The story idea of transplanting a rough and ready Western hero to the Australian continent is just as sure to be on target as the oversized Sharps rifle and its Vernier site which invariably hits the bulls eye under the caress of Tom Selleck's Matthew Quigley. Simon Wincer, in the follow-up to the phenomenal directing success of his television mini-series Lonesome Dove succeeds in crafting an exceedingly affable Western tale.
Sharpshooter Matthew Quigley arrives in Fremantle, Australia after answering an ad for a marksman placed by rancher Elliot Marston. Within moments of getting off the boat, Quigley saddles himself with a ragged addled women and confronts the Marston men sent to pick him up. Quigley's integrity makes it difficult for him to play opportunist.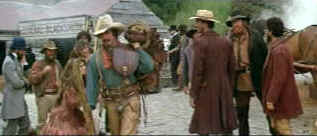 Quigley sets his standards. ©MGM
Quigley Down Under packs most of the ammunition necessary for a grand shoot-em-up into two hours. Fist fights are staged with brio, gunfights feature quick draws, and Quigley is just as fast with the lash of a humorous tongue as he is with the butt of his rifle. The wide screen images of the Australian frontier are recorded in graceful vistas. Basil Poledouris has scored a rousing musical accompaniment to the enjoyable action.
Australian pioneer spirit serves Wincer well for understanding the western genre. This accomplished film is right on target with most every shot. Quigley is economically defined by a number of small scripted details at the opening of the film and reinforced by innocent dialogue delivery by affable star Tom Selleck. Right off the boat, with one stroke of his long rifle, Quigley's characteristic defense of the" little guy" is accepted. Wincer uses Foley effects to great use and displays a panache for eloquent editing with the superb title sequence.
Tom Selleck is wonderful as Quigley. He is perfectly coifed and clothed to capture a daguerreotype come to life legendary Western shooter. Selleck's physical stature is ideal for handling the long elegant rifle, whether wielding it as a devastating staff in the rousing opening scenes or demonstrating the long range shots that shock disbelieving victims into limp lifelessness. Selleck's easygoing likeable screen persona brings added value to Quigley. Laura San Giacomo has the difficult role of Crazy Cora and acquits herself admirably. Her performance can be rather grating, but that is the nature of the character after all. Alan Rickman is somewhat arch as land baron Marston, but he has fun with the role.
Is that all the resolution there was in the transfer elements? Quigley Down Under is not quite up to snuff in the sharpness department. There are a number of scenes that are slightly soft. At least there is little evidence of peak transition edge ringing. Colors are fine but not robust. But this is a dusty picture of the Australian west. Black level and shadow detail are adequate. No, the transfer doesn't measure of to the stature of Quigley's character, but it doesn't overtly detract from the pleasure of the flick either. The great score by composer Basil Poledouris is dished out to gratifying effect in Dolby Digital 2 channel surround.


Searchers, The/ A,B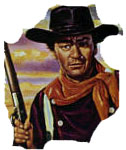 John Wayne invests Ethan Edwards with enormous dignity and determination. A classic western from director John Ford. Mesmerizingly beautiful.
---


Selections from the Feature Archive include articles on Akira Kurosawa, Frank Darabont, Blonde Bimbos, Hollywood Street Gangs, or Vietnam: The Hollywood Pariah, and many more....
A Western is a Western is a Western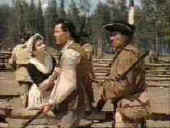 Place or time it's still a Western from John Ford's Drums Along the Mohawk to John Sturges' Bad Day at Black Rock.
---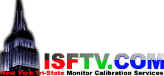 ISF Monitor Calibrations in the Tristate New York area. Lots of hardware info and frequent hardware peaks from video expert Kevin Miller. They may be judgmental, but that's the point, isn't it. Lots of DVD reviews plus news and more.
---

Have you visited Home Theater Talk lately? One of the friendliest places on the Net for Home Theater and DVD discussion, you can get help for installation problems or simply share your opinions with other Vidiots.
---


A new entry in the 2001 home theater site sweepstakes. Chief focus on hardware reviews with a smattering of software.
---


The AV Science Forum provides great feedback on the latest home theater equipment with a wide range of opinions. Outstanding home theater resource.
---