Princess Diaries (SE) /C,B
Disney/2001/115/PS 1.33
Princess Diaries is extremely formulaic and plastic. I suppose from my point of view the biggest problem is that this insipid, limp comedy seems to have been written for a target audience of twelve to fourteen-year-old girls. Perhaps they could appreciate the Pygmalion/Cinderella story on a level I could not. I suppose the target audience for this is teenage girls from twelve to fifteen. The laughs are too few and far between and are frequently strained.
The plot doesn't shake any new apples out of tree of originality. Sixteen-going-on-twenty-five Amelia lives with her artist single mother in San Francisco. She attends a cushy private school that seems above her means. But it isn't at all, as it turns out that Amelia's father, the heir to the throne of Genovia, foots the bills. After her father dies, Genovian Queen Clarisse arrives on the scene since Amelia is the last descendent of the ruling family. A grand new choice is thrown into the ring for Amelia. And the ring is crested with diamonds.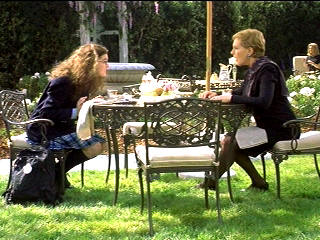 Say hello to grandma. ęDisney
The overly coy setting of Amelia's home made me shake from a sugar overdose. When she comes sliding down the pole in her converted firehouse residence it was chalk screeching on a blackboard. Amelia's romantic interest with Michael Moscovitz is likewise far too sticky. The tricks played on Amelia by the other students at the exclusive private school are beyond belief and her gullibility is very annoying. Certainly the Mustang scenes are unnecessary and unfunny failing to eek out any laughs
Undoubtedly, the best character in the film is Joseph, the head of Genovia's Security. His earliest scenes are probably the best scenes in the film. His meeting and chauffeuring Amelia has charming moments with by-play between Joseph and Amelia natural tot he characters. Ultimately his character gets buried by the avalanche of sugar crystals that buries any hope of making Princess Diaries an entertaining comedy suitable for teens and adults as well.
Anne Hathaway is effective enough Amelia, who undergoes the less than remarkable transformation. I even found Julie Andrews, who I have always found very appealing, too cold and distant as Amelia's grandmother Queen Clarisse Renaldi of Genovia. You could make a case for Andrews' interpretation arguing for her choice, but it really does not make sense in plot terms. It rings false. Heather Matarazzo plays Amelia's best friend Lilly Moscovitz with far too much eccentricity. I am sure that's the way the character is written and it's exactly what Garry Marshall wanted from Matarazzo, but I found her to be like a tooth ache. Marshall regular Hector Elizondo plays Joseph with a touch of dignity.
Yes, the film has it's funny moments and there is a measure of entertainment value. I do emphasize that it is obviously made for a different audience than myself, though my thirteen-year-old daughter was not exactly enthralled by the film. In the end it's script, script, script, you needed a better script. The kernel of the idea is fine. The execution by director Marshall is quickly paced and the montage work moves the film along, but the script is a let-down with a hacked out story. And, please,. what's with the stupid television writer who lives next to Amelia. Where did they ever dig the concept for that character out of the barrel of laughs.
There's egg on my face. I admit that I made the mistake of purchasing the pan and scan DVD edition Princess Diaries. Pan and scan is an abomination. Compositions are compromised. Perhaps these are not the most artfully composed images, and at least purchasers did a have a choice of widescreen or pan and scan DVDs of this film. It is a very bright, upbeat transfer, effectively capturing the feeling of San Francisco. Detail is consistently revealing. Color is very-well saturated maintaining good color space throughout the production. Black levels are very rich, the beach sequence is very well-lit and captured with excellent shadow detail. Natural range of skintones is delivered. Source material, as one would imagine from a newly made film, is perfectly clean. No unintentional grain shows up.
Packaged as a special edition, Princess Diaries includes a princely wealth of extras. Garrulous Garry Marshall provides his typically funny comments on one audio track keeping up the patter pretty much non-stop. On another track, Julie Andrews and Anne Hathaway share their thoughts on the movie. Some longish gaps in commentary crop up, but it's nice to share some time with the stars. There's a behind the scenes featurette, a passel of deleted scenes and a couple of music videos to round out the package.


Selections from the Feature Archive include articles on Akira Kurosawa, Blonde Bimbos, Frank Darabont, Steven Culp, John Herzfeld or Vietnam: The Hollywood Pariah, and many more....
The Bitch Brigade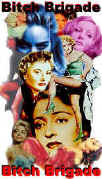 A line-up of lean-lipped actresses who marched through Hollywood in a high heeled goose step armed with razor sharp dialogue. Click on the image to read all about them.
---

The Movie Poster Archive includes extensive poster images from the films of stars like Susan Hayward, Kirk Douglas, Katharine Hepburn and many more. Our featured star is Susan Hayward
---

Annie Get Your Gun/A,A-


Irving Berlin's brilliant musical gem is polished and preserved on this Warner DVD release. An explosion of music, song, dance and color.
---



An on-line Home Theater magazine with excellent hardware reviews, including thorough and responsible research. Check it out.
---


The official site for information about the great comic director. A treat for connoisseurs of classic Hollywood madcap.
---

Have you visited Home Theater Talk lately? One of the friendliest places on the Net for Home Theater and DVD discussion, you can get help for installation problems or simply share your opinions with other Vidiots.
---
DVDRAMA
One of France's outstanding DVD resources. Par le vous DVD?
---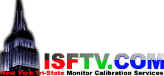 ISF Monitor Calibrations in the Tristate New York area. Lots of hardware info and frequent hardware peaks from video expert Kevin Miller. They may be judgmental, but that's the point, isn't it. Lots of DVD reviews plus news and more.
---


Glenn Erickson's insightful DVD reviews have been a Internet fixture for several years. Check out some of his sophisticated feature articles. Currently hosted by DVD Talk.