Palmetto/C,A-
Warner/1998/144m/ANA,WS 2.35
There are moments in Palmetto, the desperately wannabe film noir, when the ambiance takes on the perfect sense of steamy decadence. My noir juices began salivating as the camera captured the lazy swinging palm frond fans in the ceiling of the bar, but even touches like that are few and far between. Palmetto is simply a preposterous concoction, a cockroach of a movie that wants to be thought of as a palmetto bug.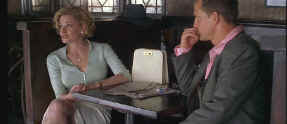 Barber checks out the lady.. ©Warner
Woody Harrelson Harry Barber, a deadbeat ex-reporter hanging out in the sweltering heat after a two-year stint in prison. Barber is ripe for the picking and gets involved in a faked kidnapping. Boy, stuff like this sure worked better in Body Heat, Lawrence Kasdanís juicy reworking of film noir themes. Players like Elisabeth Shue are left to breathing out ripe lines of dialogue with sexy innuendoes, while Harrelson canít muster enough charm to get out of this morass called Palmetto.
Volker Schlondorff who once directed some pretty potent fare in Germany has never found the magic in his Hollywood outings. Heís sort of like a down and out Harry, suckered into something he just canít win at. Too bad.
The anamorphic picture is slightly window-boxed allowing for video set-ups with overscan. Images are consistently smooth, with little or no NTSC artifacts in evidence. The mostly bright photography is accurately depicted, though it fails to convey a noirish mood. Colors are strong, controlled and have excellent range. A jazzy soundtrack laced with graceful horn riffs has plenty of air and the surround information adds dimension to the ambiance.


Selections from the Feature Archive include articles on Akira Kurosawa, Blonde Bimbos, Frank Darabont, Steven Culp, John Herzfeld or Vietnam: The Hollywood Pariah, and many more....
The Bitch Brigade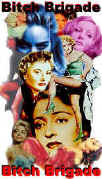 A line-up of lean-lipped actresses who marched through Hollywood in a high heeled goose step armed with razor sharp dialogue. Click on the image to read all about them.
---


Have you visited Home Theater Talk lately? One of the friendliest places on the Net for Home Theater and DVD discussion, you can get help for installation problems or simply share your opinions with other Vidiots.
---


DVD Easter Eggs
How do you take them? Fried or scrambled. Get the secrets here.
---


Excellent resource with DVD reviews, forum and more.
---

The Movie Poster Archive includes extensive poster images from the films of stars like Susan Hayward, Kirk Douglas, Katharine Hepburn and many more. Our featured star is Susan Hayward