Nightmare Before Christmas/B+,A-
Buena Vista/1993/76m/WS 1.66
A dark vision from the imagination of Tim Burton, this deviant Christmas story is told in Claymation-type animation. Thoroughly creepy, with characters stitched together from the ghost of holidays past, Burton's material could be a might strong for very young viewers. The music and lyrics by Danny Elfman are effective.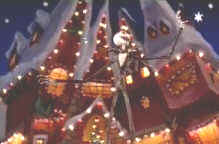 Jack in a winter wonderland. ãDisney
One of the first DVDs released by the Disney video arm Buena Vista Home Entertainment, this is a sparklingly sharp 1.66:1 transfer almost three-dimensional in its delivery. The dark colors are beautifully defined. The sound is especially pleasing with an openness that helps create this animated tale's own twisted reality.


Selections from the feature archive include articles on Akira Kurosawa, Frank Darabont, Blonde Bimbos, Hollywood Street Gangs, or Vietnam: The Hollywood Pariah, and many more....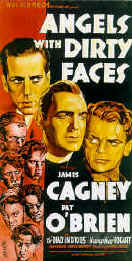 Hail, Hail, the Gangs in Hollywood
From Angels with Dirty Faces to West Side Story to Menace II Society, Hollywood has depicted youth gangs as reflections of the times.


Gary Morris's insightful publication Bright Lights Film Journal turns the celluloid in films from a unique perspective. Click on the image above for more pure movie views.
---

Direct from the corridors of the Home Theater Forum, Home Theater Talk is the newest place on the Net to discuss everything home theater. Friendly atmosphere and knowledgeable folks are the secret ingredients.
---
Imaging Science Foundation


The Imaging Science Foundation promotes proper standards in home theater viewing. ISF trained technicians offer monitor calibration services to consumers. The difference in a properly calibrated monitor can be astounding. Click on the image to find an ISF member near you.
---


Information on film sound in theaters and home theaters. Lots of helpful information provided in a handsome interface.
---

The Movie Poster Archive includes extensive poster images from the films of stars like Susan Hayward, Kirk Douglas, Katharine Hepburn and many more. Our featured star is Errol Flynn.
---