Network/A,B+
MGM/1976/121m
Scathing satire from a master director at the peak of his powers. Network skewers the new corporate television mentality of mediocrity without integrity.
At a floundering national network, the news ratings have been precipitously. Veteran anchor Howard Beale is about to be terminated from his prestigious place at the head of the news desk. Max Schumacher, head of news for the network, must glad hand his friend the bad news. Both men have seen the glory days of television news, coming up from the ranks of journalism pioneered by the Ed Murrow's of the industry. Howard is burst out. Max is scorched around the edges from battling against the new corporate powers.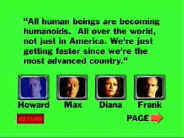 The Network Quiz DVD menu.İLive
Enter Diana, an ambitious programmer from the new generation of commercial vultures. She bright, beautiful, and she captures Max Schumacher's heart. Meanwhile Howard Beale gets to go on the air for his last show and goes bezonkers, ranting against the frustrations of society. Before they can permanently dislodge Beale from the news show, he captures the imagination of the public with his new signature slogan "I'm mad as hell and I'm not going to take it anymore," and the network quickly adapts to public sentiment, leaving Beale on the air to rant. Behind the scenes corporate hot shot Frank Hackett battles for control of the network and Max Schumacher flounders. Lumet puts it together with amazing dexterity working from a brilliant script from Paddy Chayefsky.
William Holden, Faye Dunaway and Peter Finch are Max, Diana, and Howard, with Robert Duvall in the pivotal role of Frank. Finch and Dunaway won the Best Acting Oscarsİ, but Holden, nominated, gives a mature, thoughtfully subtle performance and is the performance of 1976.
Another anamorphic DVD presentation from MGM of a classic film that looks quite good. Director Lumet is not known as a visual stylist and Network, while workmanlike visually, doesn't make the greatest looking DVD in the world. You can be sure that this is by far the best Network has looked since it's first print were delivered wet to theaters in its explosive debut run. The image is always sharp and there is little element marking. Color is accurate. There is a bonus interactive quiz game included and the packaging provides a informative production booklet.
The Feature Archive has articles ranging from A Western is a Western is a Western to Screen Voices, The Heistmasters, Akira Kurosawa, film preservationist Robert Harris and Shawshank Redemption director Frank Darabont.



Catch the Hollywood take on Blonde Bimbos by clicking on the image above.

Check out the Movie Poster Archive for short bios and images of Susan Hayward, Kirk Douglas, Katharine Hepburn and many more. This month's featured star is Clark Gable.

More than just talk, one of the friendly and helpful places on the web where home theater views are exchanged. You might find a laugh or two as well.
Imaging Science Foundation


The Imaging Science Foundation promotes proper standards in home theater viewing. ISF trained technicians offer monitor calibration services to consumers. The difference in a properly calibrated monitor can be astounding. Click on the image to find an ISF member near you.
HOT LINKS
DVD Verdict
They may be judgmental, but that's the point, isn't it. Lots of DVD reviews plus news and more
The Home Theater Forum
Looking for lively and helpful exchanges on home theater, DVD, movies. Visit this friendly site and get a hardy welcome.

Home Theater Reference Reviewing System





When you read a DVD review it's of utmost importance to know what equipment is being used to evaluate quality. Click on the projectors to find out more.