Navigator: A Mediaeval Odyssey/ B,C+
Hen's Tooth/1989/89/PS 1.33
Elements of The Navigator, a film directed by Vincent Ward, are stunning and magical. The beginning of the film is shot beautifully in black and white with mystical rhythms prevalent. It takes place during the Middle Ages as the black plague spreads its horror over Europe and across the waters to England. A small mining village, still unaffected by the horror, awaits the coming of the plague with surprisingly calm certainty. Griffin, a young village boy, is having visions of an extraordinary nature. Griffin's visions and the world he dreams about are depicted in color, providing a consistent visual reference, though I must admit that I was eventually confused. There's lots of religious symbolism in the dreams. enhanced by fine editing.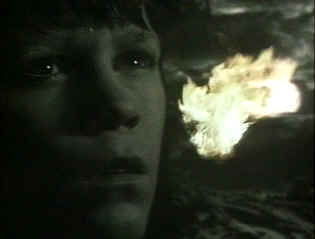 Dream and reality touch for a moment. ©Hen's Tooth
One villager, Connor, has been missing for many days after leaving the village to find out more about the black plague. When he returns with news of the plague's imminent arrival, the villagers heed Griffin's visions more closely. There's a deep pit, an endless pit that Griffin sees in his dream world that leads to the other end of the world and salvation. A team of villagers led by Connor with Griffin as guide mine their way through the depth of the pit into another reality, modern day New Zealand.
While the stunning surreal images that provided the mystical spark for the black and white world are still evident, narrative elements become strained and almost comical. There's even a touch of Les Visiteurs, an hilarious French time travel farce, that perhaps even was inspired by Ward's work; but in a serious, mystical work, the comic moments are intrusive, even if they are intentional.
In the end, Ward's work is flawed but often arresting. It's well worth seeing, though I can't help being disappointed by its failure to live up to its potential. Ward explored the other-worldly again in the big production failure What Dreams May Come with Robin Williams. Young Hamish McFarlane is innocent and virginal as Griffin. Bruce Lyons as Connor is strong and the picture of youth. Everyone looks a trifle too well groomed for this dark world.
Not a very good transfer, but serviceable. The black and white images actually look the best showing off the high key photography to good effect. There is some excess grain, especially in the color night sequences. It certainly lacks the sparkle that would have added to the wonder. Contrast level is not consistent from scene to scene. The image is not always as sharp as can be. Color saturation lacks strength. The Dolby Digital 2-channel stereo mix is clear and open. Strong regional accents may be difficult to understand but through no fault of the recording.


Selections from the Feature Archive include articles on Akira Kurosawa, Blonde Bimbos, Frank Darabont, Steven Culp, John Herzfeld or Vietnam: The Hollywood Pariah, and many more....

Steven Culp extracts the essence of Robert F. Kennedy in Roger Donaldson's outstanding feature Thirteen Days. Culp recently shared insights on the performance and his career with Films on Disc. Click the image for more.
---


Have you visited Home Theater Talk lately? One of the friendliest places on the Net for Home Theater and DVD discussion, you can get help for installation problems or simply share your opinions with other Vidiots.
---


The American Widescreen Museum, is the ultimate resource for widescreen movie information, Martin Hart's reliable site is a great tool for movie buffs.
---


European film portal and hard to find video store.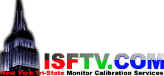 ISF Monitor Calibrations in the Tristate New York area. Lots of hardware info and frequent hardware peaks from video expert Kevin Miller. They may be judgmental, but that's the point, isn't it. Lots of DVD reviews plus news and more.
---


Glenn Erickson's insightful DVD reviews have been a Internet fixture for several years. Check out some of his sophisticated feature articles. Currently hosted by DVD Talk.
---