Man Who Would Be King/A,C+
Warner/1975/129m/WS 2.35
Director John Huston's sparkling adaptation of a Kipling story is brilliantly executed in stirring widescreen images. With Sean Connery and Michael Caine doing the honors as a couple of former British army soldiers living in India, the film comes to life with a rare vibrancy. Their adventure in search of riches is pursued with fantastical relish by the director and his players.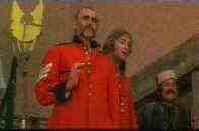 Caine and Connery in India
. ©Warner HV
We have not seen the new transfer which is anamorphic from a component source and we assume it's much better. However, on this first release t he transfer is problematic. While sharp most of the time, scenes filled with small details seem to jump in and out of focus, a problem also evident of the laser disc. Maurice Jarre's theme music who an airiness that surrounds the room and production. Special features included are a precious selection of John Huston theatrical trailers, beginning with The Maltese Falcon.
Home Theater Reference System
Laser discs and DVDs are evaluated on the following current home theater equipment: Stewart 6' x 11' Videomatte 1.33 Gain Screen, 2 Runco 980 Ultra Projectors stacked, Faroudja LD100 Line Doubler, Lexicon DC1 Surround Processor/Switcher, 2 Pioneeer Elite CLD-97 Laser Disc Players with AC-3 Modification, Sony 7000 DVD Player, Toshiba SD-3006 DVD Player, Total Media Systems Reference Home Theater Suite, LR Fronts, Center, LR Sides, LR Rears, 2 Velodyne F1500R Subwoofers, Sunfire Cinema Grand5 Channel Amp, Sunfire 2 Channel Amp, Lexicon RF Demodulator, Lexicon T-500 System Remote Control, Speaker Wire and Interconnects by Straight Wire.
HOT LINKS

The American Widescreen Museum
The wealth of information about widescreen movies is presented in a intelligent and easy to understand interface. Color in movies is given a similar treatment.

Robert Harris is part of the dynamic duo that restored Lawrence of Arabia, Spartacus, My Fair Lady and Vertigo. Harris rides a white horse into the battle to preserve our film legacy. Click on the image to read more.
Check out the Movie Poster Archive for short bios and images of Susan Hayward, Kirk Douglas, Katharine Hepburn and many more. This month's featured star is John Wayne. The Feature Archive has articles ranging from Akira Kurosawa to Blonde Bimbos and John Ford.



Click on the image of The Heistmasters for an interesting feature on the tough guys that pull off the big jobs.