Man of Flowers/ B+,C
Image/1983/91/ANA 1.85
Charles Bremer lives in a rich suburban environment surrounded by beautiful things limited only by his own crippled narrow emotional focus. Flowers speak to him, they enrich his static existence. Bremer worships beauty. Bremer's childhood memories are defocused erotic flashes of his mother and other women that come into his household. His father serves as an arm of admonishment. The secret of Bremer's present lies somewhere in this past.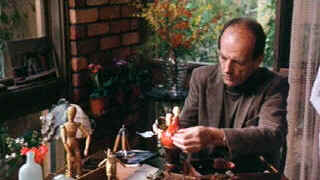 Charles piddles away the day waiting for something. ŠImage
Every Wednesday, Bremer's little flower Lisa arrives at his elegant home to perform a tantalizing strip accompanied by beautiful operatic strains. Charles gazes with little or no expression. It's as if passion has been stripped from his life. It's a ritual, much like looking at his flowers. When aroused emotionally, Charles crosses through his garden to the church across the street and plays the organ. It's his release.
Lisa lives with a once fashionable artist whose now on hard times and hard drugs. She begins to rely on her Wednesday Bremer visits with a sense of desperation. It's only a matter of time before the in her life collide with interesting effect.
Norman Kaye is eerily on the mark as Charles. He's detached yet crying to be involved in some way. His emotional rigidly is reflected in every movement. Alyson Best gives Lisa a flower-like fragility.
Writer/director Paul Cox blends his flashbacks memory with a natural sense. The small patient movie is much life a brilliant still life painting, motionless but vital. This is a first class treatment.
Happily, the transfer does not get in the way of enjoying this fascinating film. Source elements are not the greatest. Film grain is heavy, but consistent. Resolution is less than par. At least the image is not edgy. Color is good. The paintings and flowers retain a vitality. Shadow detail is adequate. Blacks achieve deep levels. Dialogue on the Dolby Digital Mono soundtrack is easy enough to understand. The music is rather thin but still effective.

Jou Du/A,B-


A sexy Chinese noir. Bold colors paint stirring emotions in a small provincial town.
---


Selections from the Feature Archive include articles on Akira Kurosawa, Frank Darabont, Blonde Bimbos, Hollywood Street Gangs, or Vietnam: The Hollywood Pariah, and many more....



Catch the Hollywood take on Blonde Bimbos by clicking on the image above.
---



Glenn Erickson's insightful DVD reviews have been a Internet fixture for several years. Check out some of his sophisticated feature articles. Currently hosted by DVD Talk.
---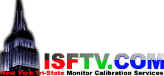 ISF Monitor Calibrations in the Tristate New York area. Lots of hardware info and frequent hardware peaks from video expert Kevin Miller. They may be judgmental, but that's the point, isn't it. Lots of DVD reviews plus news and more.
---

---
MRQE
Find reams of movie and DVD reviews at the Movie Review Query Engine, a index of reviews appearing on the Internet.
---


Mystery writer Fred Hunter digs into classic films on DVD. Check out his insightful reviews at The Classics on DVD.
---

Michael Douglas in Falling Down, looks quizzically at Robert Duval: 'You mean, I'm the bad guy'