Look Who's Talking/C+,A-
Columbia/1989/96m/ANA & WS 1.85,FS 1.33
The premise of a following a baby from its embryo stage and being able to listen to its thoughts is fun, but it's stretched to the limit in this cute situation comedy. The best moments are the earliest when the idea is freshest.
John Travolta is the cab driver who picks up a pregnant Kirstie Alley and bulls his way through traffic to get her to the hospital on time to deliver the loquacious baby. Cabby stands in for Daddy in an easy mistaken identity ploy and from there the bond between the three characters is put together comfortably. Alley is her usual frenetic self while the Travolta of a decade ago lacks the edge of appealing maturity that makes his latest pictures so satisfying. Bruce Willis is cute as the voice of the baby, delivering pithy life comments with obvious relish. George Segal has a good time as Alley's philandering boy friend who uses his therapist as an excuse to play around.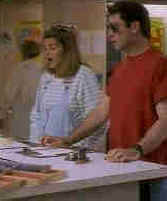 Special delivery.©Columbia
Written and Directed by Amy Heckerling, who also directed Fast Times at Ridgemont High, Look Who's Talking lacks the vitality of that earlier film. The script lacks the punch of Cameron Crowe's work on Heckerling debut film.
A very easy-going DVD of this easy-going film. Bright colors are saturated and tightly controlled. Images are very sharp. The high key photography makes for great transfers. Look Who's Talking is encoded with Dolby Digital 2-channel sound with plenty of snap.
The Feature Archive has articles ranging from John Ford to Blonde Bimbos, The Heistmasters, Akira Kurosawa and Frank Darabont.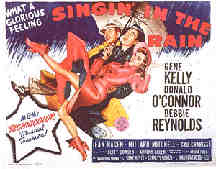 Click on the image above to for a view of Hollywood's great dance musicals. Astaire, Kelly, Rogers and more....

Check out the Movie Poster Archive for short bios and images of Susan Hayward, Kirk Douglas, Katharine Hepburn and many more. This month's featured star is Clark Gable.


Imaging Science Foundation promotes proper standards in home theater viewing. ISF trained technicians offer monitor calibration services to consumers. The difference in a properly calibrated monitor can be astounding. Click on the image to find an ISF member near you.
Home Theater Reference Reviewing System



When you read a DVD review it's of utmost importance to know what equipment is being used to evaluate quality. Click on the projector to find out more.
HOT LINKS
DVD Verdict
They may be judgmental, but that's the point, isn't it. Lots of DVD reviews plus news and more
The Home Theater Forum
Looking for lively and helpful exchanges on home theater, DVD, movies. Visit this friendly site and get a hardy welcome.