Believe me, Lansky does not break any new ground in terms of biopics or mob movies. With a script from David Mamet, the life of the legendary mob manipulator is told in a series of flashbacks. Lansky, seeking asylum in Israel, awaits the decision of the parliament debate of his fate. As he ponders his future, he thinks back to his past. This free thought style of looking back at his life leads to some confusion of time. This is Mamet trying hard to inject some vitality into the script. It backfires.
The best scenes feature a younger Lansky as he stumbles into the mob and quickly works his way up through the ranks. These formative years when he bonds with Charles "Lucky" Luciano have some sparkle to them. The period settings are quite well done. The film fails to give the home life of the mobster any resonance and Israel scenes are nothing more than boring.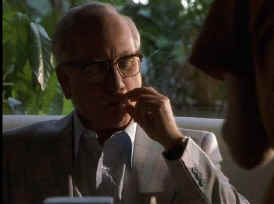 Dreyfuss puffs and ponders. ©HBO
Richard Dreyfuss does an adequate job as the older Lansky with Max Perlich bringing a fair measure of energy to the young mobster on the rise. Eric Roberts chews some scenery with appeal as Benjamin "Bugsy" Siegel, but it's an upfront performance only. Anthony LaPaglia is effective as Luciano.
Director John McNaughton directs this made for HBO production with any particular insights or style. McNaughton, who has directed some original films like Henry: Portrait of a Serial Killer and Mad Dog and Glory and the appealingly trashy Wild Things, doesn't seem to know where this movie should go. The production is very static, even though segments run through Israel, Cuba, Las Vegas and Meyer Lansky's home turf of New York.
The DVD is an excellent 1.33 aspect ratio transfer. Lansky is consistently sharp with excellent contrast ratio. Colors are accurate and there's no hint of unwanted grain. The Dolby Digital 2-channel surround provides a adequate sonic platform for the DVD.