Kate and Leopold (SE)/ B, B+
Miramax/2001/118/ANA 1.85
There's a lot of good material feathering the periphery of Kate and Leopold, a standard, but sweet New York romance. Combining fateful time travel with New York in summer works visual wonders. Kate and Leopold may fail to rise to inspirational heights. One expects more guffaws out of the raw material and set-up, but there are nothing more than a smattering of titters. But that's a strength of the film too. Comic elements are downplayed and romance rules!
Writer/director James Mangold reaches into a subtle creative bag of script elements. He pokes fun at advertising with special fervor and in his broadest strokes, looks at 19th versus 21st century manners and values, and shapes the various parts of Kate and Leopold entertaining but lightweight film.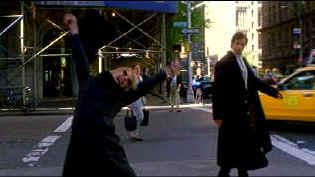 A quintessential Meg Ryan New York moment. ©Miramax
Meg Ryan is her usual effervescent self as advertising exec Kate McKay who must make some major life decisions when Leopold, a royal visitor from another age, shows up in modern New York. Subtract a couple of points of Meg' playing cute gets under your skin. Hugh Jackman makes an upright and surprisingly cool-minded Leopold, a British Duke reaching the point of financial desperation while staying with his American uncle. Aside from a few wide-eyed looks at modern life, nothing really seems to phase the refugee from the late 19th century, but Jackman does bring it off admirably. Liev Schreiber is a trifle too artificial as Kate's neighbor and beau who gets everything started with his newfound discovery. Brecklin Meyer adds his own brand of good-natured sizzle as Kate's amiable younger brother.
Mangold's production team is well-chosen. Rolfe Kent's imminently charming score is an essential compliment to Stuart Dryburgh's outstanding cinematography. Mark Friedberg's production design captured the 19th century with grand eloquence.
Kate and Leopold comes in bright summer colors with excellent saturation. Detail is excellent with fine elements cleanly resolved and artifacts kept minimized. There's light output to spare in the bright transfer. Shadow detail is very good, especially in the 19th century scenes. The lighting schemes are nicely replicated. Black levels are rich and skin tones delivered with a nice variety and accurate range. The Dolby Digital 5:1 surround captures the New York ambiance very nicely. Kent's music floats around and embellished the image winningly.
Disney has packed this DVD with generous special edition morsels. Two versions of the film are included, the original theatrical version (118m) and a slightly altered director's cut (123m). The James Mangold commentary is filled with salient information as well as philosophical elements. Seven deleted scenes may be viewed with or without commentary from Mangold Also included is a pretty standard 15-minute making of featurette and a three minute costume examination.


Selections from the Feature Archive include articles on Akira Kurosawa, Frank Darabont, Blonde Bimbos, Hollywood Street Gangs, or Vietnam: The Hollywood Pariah, and many more....
Sturges Emerges



Preston Sturges was Hollywood's resident comic genius for more than a decade. His movies are timeless. Click on his image to read all about it.
---

The Movie Poster Archive includes extensive poster images from the films of stars like Susan Hayward, Kirk Douglas, Katharine Hepburn and many more. Our featured star is Doris Day.
---



Mystery writer Fred Hunter digs into classic films on DVD. Check out his insightful reviews at The Classics on DVD.
---


ISF Course Instructors Jim Burns and Kevin Miller are hosting the Digital Film Forum. Join professionals and enthusiasts for lively home theater discussion.
---

Have you visited Home Theater Talk lately? One of the friendliest places on the Net for Home Theater and DVD discussion, you can get help for installation problems or simply share your opinions with other Vidiots.
---


Manufacturer of computer-video interfaces, switchers, distribution amplifiers, computer-video scan converters, and high resolution cable. Found in many high end home theater systems.
---