Johnny Mnemonic/B/B+
Columbia/1995/103m/ANA 1.85,FS 1.33
This much maligned Scifi flick seems true to its own material. The arc of its story follows a straight line through the vision of first time director, artist, Robert Longo. Scifi writer William Gibson wrote the screenplay based on his own short story. The action is non-stop, explosive and the false steps interesting.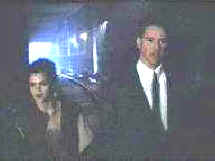 Reeves and Meyer in the dark.
©Columbia Tristar
Keanu Reeves is icy as the courier with a computer implant and Dina Meyer (Starship Troopers) is a hoot as his partner in grime.
The very dark palette of Johnny Mnemonic needs all the video help it can get and DVD provides the answer with a crisp detailed transfer. Explosion transitions are bright and stable against the black backgrounds of this Scifi techno landscape. The Dolby 5:1 sound is outstanding with solid bass extension and enveloping detail.


The Feature Archive has articles ranging from Akira Kurosawa to Blonde Bimbos.



Click on the image above for a "dream interview" with director John Ford.
---


Movie Rage: Death in the Aisles
Everyone knows what it feels like to get angry at the movies these days. Here's a humorous but not so delightful view of big screen misery.
---
Body Parts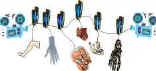 Hollywood's long fascination with parts of the body is explored piece by piece.
---