How the Grinch Stole Christmas (SE)/C,B
Universal/2000/105/ANA 1.85
How the Grinch Stole Christmas didn't do it for me. He neither pierced my heart with fear nor disgusted me to the extent of provoking laughter. In fact, this old Grinch probably worked best as a sleeping tonic. At least my thirteen-year-old daughter was delighted by varied Grinch antics.
No doubt the busy production design is supposed to be a hoot. Some of it is funny, but I grew tired of it quickly. I felt rather overpowered by the machinations.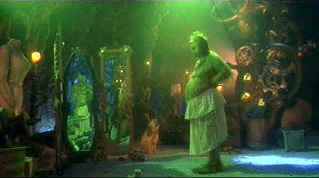 Looking good, Grinch. ©Universal
Jim Carrey is buried beneath Grinch make-up. Excessive make-up coupled with special effects worked wonders for Carrey in The Mask. In that film, there was a balance between a live Carrey and a juiced up Carrey. Can you imagine Jim Carrey going trick or treating? That might give you an inkling into his Grinch performance. I suppose I wanted Carrey to be funnier too. Young Taylor Momsen is a bland Cindy Lou Who, but that is part and parcel of the overall conception.
I can understand how director Ron Howard might have gotten carried away by the material. Dr. Seuss's Grinch is a sort of public treasure. Howard's usual good judgment may have been dazzled by the task of decorating a venerable public Christmas tree with movie delights. Excess is the operative word in most instances. How the Grinch Stole Christmas is really for a young kid audience. It's tuned safely for young impressionables.
Is the How the Grinch Stole ChristmasDVD faithful to the original source material? Probably. Most sequences are sharp, however in a number of instances it almost appears the film has been airbrushed, like illustrations in a fairy tale book. It's not in synch with the nature of the narrative material nor production elements. I found black level occasionally less than optimal. Is it a fair approximation of the original source material? Color is good with a subtle range, though in scenes with compromised black level, the color is slightly washed out. My guess is that How the Grinch Stole Christmas would present a major challenge for fixed pixel display devices like LCD and DLP projectors, and plasmas. There's a choice of Dolby Digital or DTS sound, both which present a wide and detailed surround experience.
The special edition elements are standard fare. They do enhance the experience for fans of the film. Emphasis is strong on make-up and production design elements, perhaps an indicator of what the mindset was for this feature. In addition to a "spotlight on Location" featurette, there are deleted scenes, a few minutes of Carrey out-takes, and other snippets of Grinch arcania.


Selections from the Feature Archive include articles on Akira Kurosawa, Blonde Bimbos, Frank Darabont, Steven Culp, John Herzfeld or Vietnam: The Hollywood Pariah, and many more....
The Bitch Brigade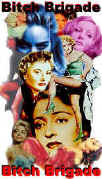 A line-up of lean-lipped actresses who marched through Hollywood in a high heeled goose step armed with razor sharp dialogue. Click on the image to read all about them.
---


October Sky/A,A



Johnstonís glorious montage work accompanied by Marc Isham's stunning Americana score are reason enough for watching this exquisite movie.
---



Glenn Erickson's insightful DVD reviews have been a Internet fixture for several years. Check out some of his sophisticated feature articles. Currently hosted by DVD Talk.
---


Agoraquest is offering reviews, forums, news, and more dedicated to Sony products including, televisions, cameras, audio, DVD, and more.
---

The Movie Poster Archive include extensive poster images from the films of stars like Susan Hayward, Kirk Douglas, Katharine Hepburn and many more. Our featured star is Clark Gable.
---