Great Race, The/ B+, B+
Warner/1965/160/ANA 2.35
The Great Race is inspired by the wacky and irreverent Warner Brothers Looney Tunes as well as the silent film comedies. The ode to Mr. Laurel and Mr. Hardy, and Mack Sennett, and all those wonderful comedians of the silent film era is warm and genuine. Director Blake Edwards generously and gratefully acknowledges his dept to those pioneer filmmakers of yesteryear and without further ado proceeds to go for broke with a silly and delicious helping of pie-in-your-face comedy. From the opening sequences featuring some great stunts and delightful vehicular contraptions, the whole film is indeed a joyously executed ode to slapstick.
And they're off! ©Warner
It's the turn of the 19th century and daredevil "The Great Leslie" constantly captures the public's imagination with his death defying stunts. Leslie's pure white handsome presence makes women swoon and men puff on cigars. Professor Fate, he of the black heart and devious mustache turn, is ever on Leslie's trail, trying to turn public adulation to his own great signature misdeeds. When a road race from New York to Paris is proposed, Maggie Dubois is the beautiful suffragette determined to provide inside news coverage of the cross continent shenanigans.
The main theme, composed around elements from Mancini's song The Sweetheart Tree, is thoroughly charming. The Russell Harlan cinematography is comic-book upbeat and the production design, from the zany automobile contraptions to the settings ranging from Boracho to Potzdorf to Paris are draped in their most picturesque finery.
All the actors are having a ball in The Great Race. There's such a spirit of freedom about the film. And the actors can overact to their hearts content. Tony Curtis provides his best good boy smile through every situation as Leslie, though if there's one glaring fault in The Great Race, it's Jack Lemmon's unabated loud delivery. Does he really have to scream every other line to go over the top? Wouldn't a twist of half a mustache as Professor Fate been enough? Natalie is a perfectly composed fruit pie as Maggie. She harks back with glee to heroines of yesteryear. Peter Falk adds his deft and daft touch as Fate's henchman Max, and Keenan Wynn adds good-natured support as Leslie's man Hezekiah.
This is one movie where Blake Edwards can let it all really hang out. The Boracho fight choreography is wild and wooly and wonderful. Try this one one on for size. How did Professor Fate's train miraculously turn around on the tracks? I wonder what that was about? Perhaps The Great Race is overly ambitious is length and scope, but section by section provides their own joys. The Mancini music bubbles along with the delicious machines with unusual harmony. The pie fight is a humungous exercise in whipping up fun with whipped cream. Tony Curtis dodges pie after pie with goody-two-shoes grace as the scene builds to pie payoff after payoff. It had me licking my lips in laughter. All I can say is "Push the button, Max."
The Great Race film elements are in outstanding condition. Color saturation is bright and rich providing eye candy to show off the comic shenanigans. Excellent contrast range packs lots of punch and pie into the picture. Beautiful black levels with nice detail within the black. Overall nice depth of detail. Check out the confetti in Potzdorf. Some NTSC artifacts rear up on the periphery like some minor interaction on the clapboard siding is noticeable. I caught some detectible small detail jitter in a few sequences. That first sight of Natalie Wood is one wonderful red-colored lollipop. Wood looks as scrumptious as ever in The Great Race. The remastered Dolby Digital 5:1 surround track is clean, crisp and the Mancini music airy. A fifteen-minute behind the scenes short provides a nice tour of the production. A short look behind the Boracho fight is the closest to getting inside.


Selections from the Feature Archive include articles on Akira Kurosawa, Frank Darabont, Blonde Bimbos, Hollywood Street Gangs, or Vietnam: The Hollywood Pariah, and many more....
Sturges Emerges



Preston Sturges was Hollywood's resident comic genius for more than a decade. His movies are timeless. Click on his image to read all about it.
---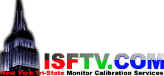 ISF Monitor Calibrations in the Tristate New York area. Lots of hardware info and frequent hardware peaks from video expert Kevin Miller. They may be judgmental, but that's the point, isn't it. Lots of DVD reviews plus news and more.
---


ISF presenter and industry consultant Jim Burns provides info and HDTV and other areas on his site.
---


World class video expert Joe Kane's home on the Internet. Look for details on the new DVD Essentials.
---
Imaging Science Foundation


The Imaging Science Foundation promotes proper standards in home theater viewing. ISF trained technicians offer monitor calibration services to consumers. The difference in a properly calibrated monitor can be astounding. Click on the image to find an ISF member near you.
---

Have you visited Home Theater Talk lately? One of the friendliest places on the Net for Home Theater and DVD discussion, you can get help for installation problems or simply share your opinions with other Vidiots.
---