Gay Desperado,The/B+,B
Image/1936/87/FS 1.33/BW
A thoroughly charming musical comedy from sophisticated director Rouben Mamoulian. Songs are well integrated into the silly plot and Mamoulian's light touch plumps up the billowy material beyond its script with beautiful screen compositions and artful use of shadows.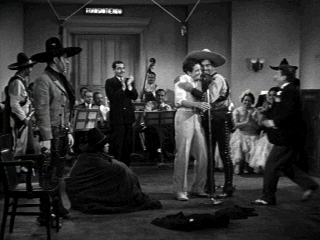 I just love that voice. ŠImage
Just across the border a Mexican desperado, inspired by watching American Gangster movies, seizes the opportunity to emulate his North of the border counterparts by kidnapping a rich man's song and his girl. The newest gang member is would-be opera singer Chivo. He has been forcibly drafted into the gang by gang honcho Braganza, but Chivo wants no part of the bad man operation.
Nino Martini provides equal parts sliced ham and a melodic tenor's voice as Chivo. Leo Carrillo catches the Klieg lights on his teeth as Mexican bandit chief Braganza. Carrillo and supporting B movie veteran Harold Huber banter about hilariously with a deadpan look or two from Mischa Auer added to the comic mix. Ida Lupino is the lady who lights Chivo's fire while displaying a feisty independence as one of the ransomed pair.
Mamoulian keeps the action flowing with frequent chases and inoffensive songs. Check out how Mamoulian echoes the saguaro cactus landscape with beautifully posed fire lit Mexican bandits.
Happily, the source material for The Gay Desperado is in very good condition. Specs of dirt and a few scratches seldom mar the beauty of the images. Deep blacks and fine shadow detail reveal the beauty of Mamoulian's moody visual style. Detail is mostly is mostly on target. The mono sound track is fine, with little evidence of hiss. The Gay Desperado is a happy artifact from a simpler Hollywood era.



The National Film Preservation Foundation (NFPF) is the nonprofit organization created by the U.S. Congress to save America's film heritage.
---


Information on film sound in theaters and home theaters. Lots of helpful information provided in a handsome interface.
---


DVD Demystified makes it all clear.The official Internet DVD FAQ for the rec.video.dvd Usenet newsgroups.
---

Direct from the corridors of the Home Theater Forum, Home Theater Talk is the newest place on the Net to discuss everything home theater. Friendly atmosphere and knowledgeable folks are the secret ingredients.
---


Selections from the feature archive include articles on Akira Kurosawa, Frank Darabont, Blonde Bimbos, Hollywood Street Gangs, or Vietnam: The Hollywood Pariah, and many more....


Catch the Hollywood take on Blonde Bimbos by clicking on the image above.
---

The Movie Poster Archive includes extensive poster images from the films of stars like Susan Hayward, Kirk Douglas, Katharine Hepburn and many more. Our featured star is Danny Kaye.