From Russia With Love/A,B
MGM-UA/1963/115 minutes
The leanest and meanest of the James Bond films, From Russia with Love gives the characters a chance to develop in a somewhat realistic plot. Bond is coaxed to Turkey by the lure of getting a Lector Decoding Box from a beautiful Russian defector, but naturally the path turns crooked. Connery is once again the perfect Bond in this sequel to the original and Robert Shaw's screen menace is unparalleled in the entire lexicon of Bond films. Minimizing the silly effects goes a long way to giving 007 a chance to emote and use his wits and physicality to rescue the day.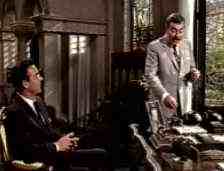 Connery and Armendarez. ãMGM-UA

From Russia with Love suffers from some of the same grain problems as Dr. No in the outdoor scenes, though less exaggerated. One of the darkest of all Bond films in its cinematography treatment, the transfer of the darkest scenes looks vary good. .For those lucky enough to have widescreen video set-ups, From Russia with Love is transferred anamorphic 1.85.
Home Theater Reference System
Laser discs and DVDs are evaluated on the following current home theater equipment: Stewart 6' x 11' Videomatte 1.33 Gain Screen, 2 Runco 980 Ultra Projectors stacked, Faroudja LD100 Line Doubler, Lexicon DC1 Surround Processor/Switcher, 2 Pioneeer Elite CLD-97 Laser Disc Players with AC-3 Modification, Sony 7000 DVD Player, Toshiba SD-3006 DVD Player, Total Media Systems Reference Home Theater Suite, LR Fronts, Center, LR Sides, LR Rears, 2 Velodyne F1500R Subwoofers, Sunfire Cinema Grand5 Channel Amp, Sunfire 2 Channel Amp, Lexicon RF Demodulator, Lexicon T-500 System Remote Control, Speaker Wire and Interconnects by Straight Wire.
HOT LINKS

The American Widescreen Museum
The wealth of information about widescreen movies is presented in a intelligent and easy to understand interface. Color in movies is given a similar treatment.

Robert Harris is part of the dynamic duo that restored Lawrence of Arabia, Spartacus, My Fair Lady and Vertigo. Harris rides a white horse into the battle to preserve our film legacy. Click on the image to read more.
Check out the Movie Poster Archive for short bios and images of Susan Hayward, Kirk Douglas, Katharine Hepburn and many more. This month's featured star is John Wayne. The Feature Archive has articles ranging from Akira Kurosawa to Blonde Bimbos and John Ford.



Click on the image of The Heistmasters for an interesting feature on the tough guys that pull off the big jobs.