From Here to Eternity (SE)/ A,B
Columbia/1953/118/FS 1.33
A towering faithful screen adaptation of the powerful James Jones novel, From Here to Eternity is a film deserving of its lofty reputation. The Daniel Taradash script preserves the rich characterizations and Fred Zinnemann delivers with elegant direction. The film won eight Oscars© and was nominated for five more. It won as Best Picture and Best Director for Zinnemann. Frank Sinatra and Donna Reed won supporting Oscars© and Montgomery Clift, Burt Lancaster and Deborah Kerr were nominated for Best Actor.
The multiple stories lines revolving around Schofield Barracks in Honolulu, Hawaii in the days leading up to the attack on Pearl Harbor are balanced beautifully. Newly transferred Private Robert E. Lee Prewitt is a boxer and a bugler. A self-declared thirty-year-man, Prewitt must face the "treatment" because of his refusal to fight for the company's stacked boxing team. Top Sergeant Milt Warden runs G company with a keen intelligence for company commander Captain Dana Holmes. The captain's wife Karen wears tight sweaters and advertises a sexuality that proves too tempting for Warden. Feisty New Jersey Private Maggio befriends Prewitt and takes him to The New Congress Club where he meets Lorene, a working girl, and promptly falls in love. As the pressure from the other boxers mounts on Prewitt, Warden can't help but respect him. Maggio meanwhile lets the booze put him in the path of Stockade Sergeant Fatso Judson.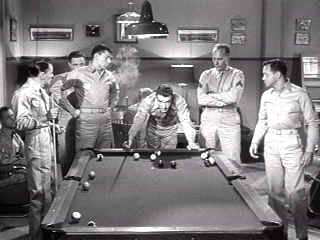 To fight or not to fight. ©Columbia
The drama is spiced by some excellent fights, local color in the location shoot, and one of the screen's most famous love scenes. Director Fred Zinnemann is a master of pace and taste. Every scene emits class. Zinnemann maintains a fine balance between the stories, never running with one long enough to forget the others. The film flows with the certainty of the ocean surf. Zinnemann, not known for action direction even gets the attack on Schofield Barracks perfectly. The aerial shots of the men scattering under from the attack of the planes is very impressive.
Montgomery Clift cast against type as Prewitt is a brilliant Zinnemann choice. Clift brings a simple dignity to the role of Robert E. Lee Prewitt, Jr. No, he doesnít look very much like a boxer, but he handles himself admirably in the fight scenes. He does know his way around a bugle, though, and his pensive nature adds incredible dimension to his character. Burt Lancaster plays tough top sergeant Warden with typically big acting strokes. There are moments when heís a trifle stiff, but overall itís one of Lancasterís fine films. Deborah Kerr is another terrific choice int he role of Karen Holmes. Kerr makes herself seem a cut above everyone around her, maintaining a certain degree of ice even her most sexual moments. Frank Sinatra playing Maggio won an Academy Award for Best Supporting actor. The many small roles are handled with equal care. Ernest Borgnine stands out in the role of Fatso. With fine guidance from Zinnemann these tough exterior characters are able to show their internal emotions through the combination of articulate script and outstanding direction.
Grain is preserved in tight patterns. The DVD really looks like film. There is a steady speckling of dirt sprinkling the elements. A consistently sharp transfer and full range gray scale gives the film good dimension. Good light output provides the picture with punch. Shadow detail is excellent and interior lighting appears natural. The horns sound very good on the mono soundtrack, but violins are somewhat strident. Dialogue is delivered cleanly and there's no hiss.
A lot of good anecdotes are recalled by Tim Zinnemann and Alvin Sargent on an audio commentary. Zinnemann is the director's son and Sargent had a small role in the film and also later scripted Julia for Fred Zinnemann. Zinnemann debunks the Sinatra/Godfather stories that claim the actor got his role through some gang intersession maintaining that studio head Harry Cohen gave him the role at the suggestion of Sinatra's then wife Ava Gardner. No horse's heads here. Commentary is not scene specific, however, it is often sparked by the action. There's a short featurette that's pure promo film and a few segments from Fred Zinnemann: As I See It, including some home movies.


The Feature Archive has articles ranging from Akira Kurosawa to Blonde Bimbos.


Movie Rage: Death in the Aisles
Everyone knows what it feels like to get angry at the movies these days. Here's a humorous but not so delightful view of big screen misery.
---



Elegant DVD portal with news, reviews, links and information galore.
---


European film portal and hard to find video store.
---


The AV Science Forum provides great feedback on the latest home theater equipment with a wide range of opinions. Outstanding home theater resource.
---

Have you visited Home Theater Talk lately? One of the friendliest places on the Net for Home Theater and DVD discussion, you can get help for installation problems or simply share your opinions with other Vidiots.
---


L.A. Confidential (SE) /A,A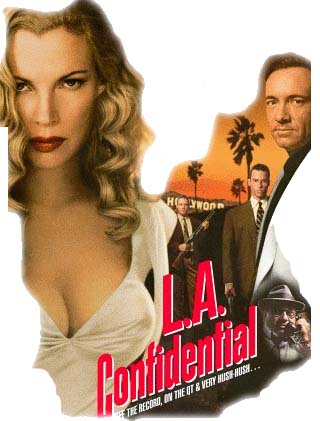 Unquestionably the best picture of 1997. Top-notch entertainment with superb acting.
---


The major studio vaults are filled with incredible film treasures which few have seen the light of DVD.
Open the Vaults

---

The Movie Poster Archive include extensive poster images from the films of stars like Susan Hayward, Kirk Douglas, Katharine Hepburn and many more. Our featured star is Burt Lancaster.
---