French Connection (SE) II/A,A-
Fox/1975/119/ANA 1.85
As good as The French Connection plays, The French Connection II is even more gut wrenching. The setting is Marseilles. American narcotics cop Popeye Doyle, the proverbial fish out of water, has come to track drug lord Alain Charnier in a cooperative effort with the French police. Director John Frankenheimer's consistently outstanding choices make The French Connection II sing in perfect key from the outset. There's a huge amount of French spoken in the film, but there are no English titles. Effectively, this puts the audience int he same shoes as Doyle, who probably doesn't even understand merde, and must dance around the language dancing around the language. The heroine injections sequence is dirty and despicable. Hackman's transformation is harrowingly real as Doyle descends into a nightmare of liquefied powder. They are only topped by the amazingly forceful and unpredictable depiction of a cold turkey cure.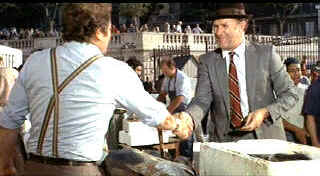 A fish out of water. ©Fox
Much of the movie is filmed in the back alleys of a seedy Marseilles. It feels dangerous and corrupt. There are several set pieces in The French Connection II that are just as thrilling as the first French Connection. Doyle's breathtaking Marseilles street chase is nothing short of brilliant. Move by move, relentless, long strides bulling through crowds, legs bucking under the enormous strain, Doyle's focus never breaks. It's a wondrous and seamless montage of image.
Frankenheimer clearly determined to give French Connection II visual treatment similar to the original. The style works brilliantly well again, adding danger to every Marseilles corner. French cinematographer Claude Renoir provides the perfect images and lighting with a variety of hand-held shots and dramatic zooms.. The French Connection II is a paradigm of visual filmmaking. John Frankenheimer can tell a story without words; not just action, but a thoughtful and pensive story. The film lives just as vitally as an internal and brooding work of art.
Casting is superb. With Hackman and Fernando Rey repeating their roles as Doyle and Charnier, most of the other significant parts are cast with French actors. Bernard Fresson has the center of gravity of a Sumo wrestler in creating a tough policeman. Philippe Leotard is another fine choice as Charnier's henchman Jacques. Doyle's obnoxious charm comes across far more effectively in French Connection II. The scene in the small French Bar is a diamond on its own. Doyle locks horns with a fire plug of a French policeman Barthlemy in II. He's a much more satisfying colleague adversary than the Federal Narcotics Bureau man in the original.
Along with the the hand held photography, there are lots of long zooms lending a grainy look to the film. The DVD transfer delivers tightly controlled grain. Images are uniformly sharp save for those long lens zooms that are originally softened. Overall, the original elements are very clean. The DVD exhibits no artificial edginess. Skin tones have a nice range. Contrast is excellent. Black level is deep, shadow detail revealing. Various lighting schemes are captured perfectly. Color purity is very good. The Dolby Digital 2 Channel mono is free of any distortion.
There are two commentaries as special edition extras. The articulate John Frankenheimer supplies his memories of the challenge of making a sequel to such a terrific film as The French Connection. Frankenheimer is on target and his recollections are fresh. A second commentary features producer Robert Rosen and Gene Hackman. Rosen's commentary is recorded while watching the film while Hackman's seems cut in from an interview, though the commentary is introduced by both principals with a welcome to the special edition of The French Connection II. There's a lot more Rosen than Hackman, but Rosen is a good speaker and his memories are welcome and entertaining.

The Movie Poster Archive includes extensive poster images from the films of stars like Susan Hayward, Kirk Douglas, Katharine Hepburn and many more. Our featured star is Edward G. Robinson


Selections from the Feature Archive include articles on Akira Kurosawa, Frank Darabont, Blonde Bimbos, Hollywood Street Gangs, or Vietnam: The Hollywood Pariah, and many more....
Puttin on the Ritz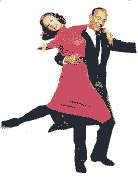 Fred Astaire and Cyd Charisse bring Silk Stockings to life, a remake of Ninotchka, one of many films successfully turned into musicals by the Hollywood dream factory. Read all about remakes into musicals by clicking on the divine dancers.
---

Steven Culp extracts the essence of Robert F. Kennedy in Roger Donaldson's outstanding feature Thirteen Days. Culp recently shared insights on the performance and his career with Films on Disc. Click the image for more.
---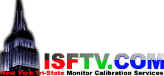 ISF Monitor Calibrations in the Tristate New York area. Lots of hardware info and frequent hardware peaks from video expert Kevin Miller.They may be judgmental, but that's the point, isn't it. Lots of DVD reviews plus news and more.
---


The National Film Preservation Foundation (NFPF) is the nonprofit organization created by the U.S. Congress to save America's film heritage.
---


Home of The American Film Institute.


Films of the Golden Age is
a showcase for special feature articles on film people and Hollywood history, all illustrated with beautiful photographs and classic movie art.
---