Free Enterprise(SE)/B+,A-
Pioneer/1999/114m/WS1.85
The concept is scary, but the execution, infused with all the spirit of true Star Trek fanatics, exudes with honest energy. Free Enterprise so entertaining because it is much more than a concept movie, itís a film about people, and these people are a lot of fun to be around. So fasten your seat belts kiddies, cause the movie references will be flying like a meteor shower.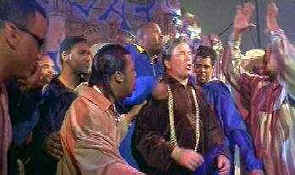 The wrap party. ©Pioneer
Two buddies on the periphery of the movie business, one a marginal magazine publisher and the other a talented film editor in a less than prestige house, find inspiration in the common bond of Star Trek idolatry. A chance meeting with William Shatner, who is nothing like his Star Trek persona might suggest, opens up new possibilities, Free Enterprise takes off like a mission the crew of the original starship Enterprise would be proud of, seeking new frontiers of moviemaking and bringing a whole new beat to Shakespeare by way of Shatner.
Boy, these guys did a fine job of casting this film. Rafer Weigel is delightful as Robert. Totally natural in every scene and filled with the starry-eyed honesty of Star Trek innocence, Weigel gives Robert a center of gravity good enough to make maneuvers in this spacey comedy utterly comfortable. Eric McCormack does fine work as Mark. Shatner is such a good sport about the material in Free Enterprise. Heís comfortable with his character and generous to his fellow actors.
What a terrific special edition the Free Enterprise team has put together. The audio commentary is enthusiastic and consistently entertaining. In addition, the filmmakers have delivered a documentary made with what appears to be a digital camcorder. It looks great and is put together with the same verve as the feature film. Get ready for some terrific screen tests and about a half hourís worth of deleted scenes. Bright DVD images with plenty of visual pizzazz are more the norm these days. Free Enterprise, a widescreen presentation, is no exception. The colors are lively and literally jump off the screen. Edge enhancement is kept to a minimum, yet detail is outstanding. You can enjoy every quirky look delivered by the actors. Shatnerís rap rendition of Julius Caesar is a blast and the sound is crisp, clean, and while lacking the rumble of a Star Trek flick, it has enough power to launch Free Enterprise.
The Feature Archive has articles ranging from John Ford to Blonde Bimbos, The Heistmasters, Akira Kurosawa and Frank Darabont.



Click on the image above to learn more about the effect of an actor's voice on his screen persona.

Check out the Movie Poster Archive for short bios and images of Susan Hayward, Kirk Douglas, Katharine Hepburn and many more. This month's featured star is Clark Gable.
Imaging Science Foundation


The Imaging Science Foundation promotes proper standards in home theater viewing. ISF trained technicians offer monitor calibration services to consumers. The difference in a properly calibrated monitor can be astounding. Click on the image to find an ISF member near you.
HOT LINKS
DVD Verdict
They may be judgmental, but that's the point, isn't it. Lots of DVD reviews plus news and more
The Home Theater Forum
Looking for lively and helpful exchanges on home theater, DVD, movies. Visit this friendly site and get a hardy welcome.
Home Theater Reference Reviewing System



When you read a DVD review it's of utmost importance to know what equipment is being used to evaluate quality. Click on the projectors to find out more.