Forrest Gump (SE)/A,A-
Paramount/1994/142/ANA 2.35
Forrest Gump gets better every time I watch it. And I'm not a chocoholic. Director Robert Zemeckis's sweeping canvas covers twenty years of American history with masterful combination of humor and pathos. Gump' elemental goodness and innocence makes him the perfect Americana guide. With natural precision, Gump overcomes childhood disease to star on the football field with breathless speed, becomes a part of school integration in Alabama, meets several American presidents, is a Vietnam hero, becomes a table tennis legend, and sets the country on end with his cross country running determination. Forrest Gump is a paean to the innocence of America, through all sorts of tragedies, through war, assassination, hate, our innocence survives through Forrest, through his simple belief in humanity.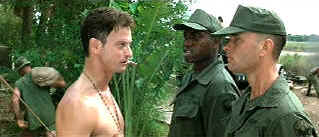 Welcome to the 4th platoon. ©Paramount
Tom Hanks is nothing short of amazing as Forrest. Hanks does innocence better than anyone. You never sense a hint of dishonesty in the performance. There's no self-pity from Hanks and he never lets you feel sorry for the character. Hanks gets solid support from Gary Sinese as Lieutenant Dan Taylor and Sally Field as Momma Gump. Mykelti Williamson is very affecting as Bubba. Robin Wright plays Jenny Curren with a bit too much ice for my taste.
Forrest Gump featured ground-breaking computer integration of newsreel footage. Forrest's American history odyssey took on an extra dimension aided by the slick technology, that was trumpeted with great fanfare. Remarkably, the computer blending still looks terrific and adds to Gumpian legend.
Zemeckis is the general, but his field command is equally powerful. Eric Roth's screenplay is perfect adaptation of Winston Groom's popular novel. Cinematographer Don Burgess provides a glossy picture worthy of a parade of magazine center spreads. The musical transition cues brilliantly set time and place.
Forrest Gump looks terrific in this special edition DVD. Colors jump out at you. Every look in Forrest's eyes is crystal clear. The fire and smoke of Sinese's Lieutenant Dan is captured with intensity undiminished by lackluster imagery. There's a touch of peak transition ringing, but it's only obvious on scenes with small figures against bright backgrounds. Theatrical pop is a hallmark of this fine transfer. This Gump is a sight for movie lovers. The Dolby Digital 5:1 encoding is excellent. It delivers the crowd ambiance of a Vietnam anti-war demonstration or the ferocity of combat with accurate sound stage.
The 2-disc set includes commentary by Robert Zemeckis, producer Steve Starkey and production designer Rick Carter. A second commentary is delivered by producer Wendy Finerman. Disc 2 includes several documentaries, visual effects analysis including two never before seen sequences, screen test, trailers and more. A feast of Gump.


Selections from the Feature Archive include articles on Akira Kurosawa, Frank Darabont, Blonde Bimbos, Hollywood Street Gangs, or Vietnam: The Hollywood Pariah, and many more....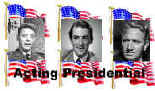 What actor would you vote whose screen persona best exemplified the fabric of the president of the United States? Check act Acting Presidential for a look at the many actors who have coveted The Oval Office.
---

The Movie Poster Archive includes extensive poster images from the films of stars like Susan Hayward, Kirk Douglas, Katharine Hepburn and many more. Our featured star is James Stewart
---



Looking for information about widescreen movies and hardware.
---
The Widescreen Movie Center is the place to go.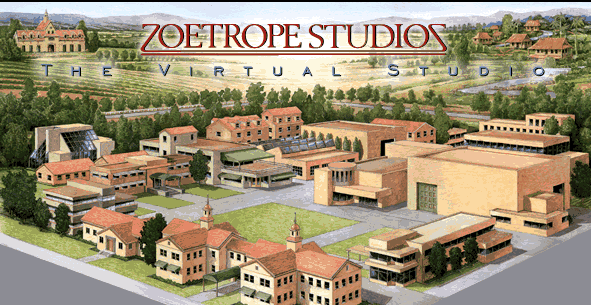 The home of Francis Ford Coppola's Zoetrope Studios has more corridors of interest than you might expect.
---

Have you visited Home Theater Talk lately? One of the friendliest places on the Net for Home Theater and DVD discussion, you can get help for installation problems or simply share your opinions with other Vidiots.
---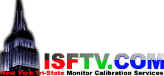 ISF Monitor Calibrations in the Tristate New York area. Lots of hardware info and frequent hardware peaks from video expert Kevin Miller.They may be judgmental, but that's the point, isn't it. Lots of DVD reviews plus news and more.
---