Fools Rush In//B+,B+
Columbia/1996/109m/ANA 1.85,FS 1.33
A very charming bit of romantic fluff that features an excellent comic turn from Matthew Perry. The chemistry with co-star Salma Hayek works well. While the actors clearly have contrasting styles, this works nicely. Each exhibits their own brand of ebullience, tuned for romantic comedy. Jon Tenny adds some energetic supporting work. The basic Hollywood tale of boy meets girl, boy loses girl. boy finds girl again is played out in New York and Las Vegas and its surrounding environs.
Directed by Andy Tennant with some outstanding montage sequences, there are some questionable scenes of blatant racism, but those portrayed with unusual directness ultimately fare the best.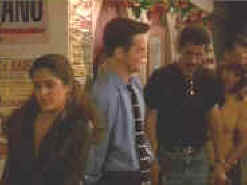 Line up for love.©Columbia Tristar
A very colorful transfer that is mostly sharp in detail, there is live grain in some scenes. Contrast levels are excellent. In all, a very pleasing picture. Presented in both anamorphic widescreen 1.85 and PS 1.33. The Dolby Digital 5:1 recording is upbeat.
Home Theater Reference System
Laser discs and DVDs are evaluated on the following current home theater equipment: Stewart 6' x 11' Videomatte 1.33 Gain Screen, 2 Runco 980 Ultra Projectors stacked, Faroudja LD100 Line Doubler, Lexicon DC1 Surround Processor/Switcher, 2 Pioneeer Elite CLD-97 Laser Disc Players with AC-3 Modification, Sony 7000 DVD Player, Toshiba SD-3006 DVD Player, Total Media Systems Reference Home Theater Suite, LR Fronts, Center, LR Sides, LR Rears, 2 Velodyne F1500R Subwoofers, Sunfire Cinema Grand5 Channel Amp, Sunfire 2 Channel Amp, Lexicon RF Demodulator, Lexicon T-500 System Remote Control, Speaker Wire and Interconnects by Straight Wire.
HOT LINKS

The American Widescreen Museum
The wealth of information about widescreen movies is presented in a intelligent and easy to understand interface. Color in movies is given a similar treatment.

Robert Harris is part of the dynamic duo that restored Lawrence of Arabia, Spartacus, My Fair Lady and Vertigo. Harris rides a white horse into the battle to preserve our film legacy. Click on the image to read more.
Check out the Movie Poster Archive for short bios and images of Susan Hayward, Kirk Douglas, Katharine Hepburn and many more. This month's featured star is John Wayne. The Feature Archive has articles ranging from Akira Kurosawa to Blonde Bimbos and John Ford.



Click on the image of The Heistmasters for an interesting feature on the tough guys that pull off the big jobs.