Fisher King,The/A,B+
Columbia/1991/138m/ANA 1.85

Everything comes together to perfection in The Fisher King. Marrying the script by sensitive Richard LaGravanese with director Terry Gilliam's splendid imagination took the film to another level. Brilliant casting insures the assets of writer and director.
Jack Lucas is a slick talk radio host with ambitions for television stardom. Taking a flip attitude to on the air callers is Jack's signature style. Popular with audiences, Jack glides through life, stepping up the ladder with the confidence of a king, only to fall from grace. When a psychotic regular caller seeks Jack's help, his smart ass dismissal leads to a horrible disaster.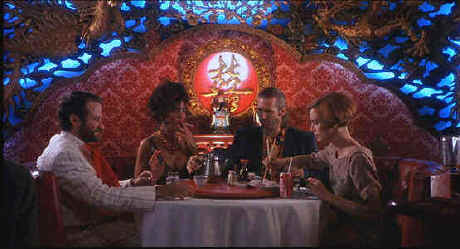 Playing matchmaker with chopsticks. ©Columbia
Several years after the incident Jack is no longer the ball of energy igniting the airwaves. He lives with the decidedly blue collar owner of a video store. Drunk and feeling sorry for himself, Jack is saved from some neighborhood toughs by a band of homeless "knights" led by Parry. It turns out that Parry and Jack are indelibly linked. Parry is living out a nightmare. In his twisted vision his only hope is to find the holy grail. For Parry, the grail is the key to unlock his life. For Jack, the hunt for the grail is nothing more than a stand-in for the search for his own humanity.
A story of love and redemption, The Fisher King succeeds on many levels. With it's mythological sub structure there is a call to a return to an understanding of chivalry. There is no denying the visual power of Parry's hallucinations. But it all boils down to The Fisher's King's understanding of friendship and the priorities of life.
The Fisher King is highlighted by terrific performances. Jeff Bridges may be the best actor of his generation. Finding the truth to Jack makes for an extremely complex role. From his acid on-air personality to the to his brush with moonlight and romance, Bridges is centered on a universe of truth. Robin Williams is a unique talent. Parry is a fine showcase for him to mine some of the sadness that lurks underneath the veneer of every brilliant comic. Mercedes Ruehl brings a wonderful sense of reality to The Fisher King. Anne Napolitano is the last person on earth you'd expect to find with Jack Lucas, but Ruehl gives her something special that leaps the obvious bounds. And who can forget Michael Jeter's outrageous transvestite bit as Streisand doing "Lydia," or the beautiful moment when Williams sings "Lydia, the Tattooed Lady."
The anamorphic transfer from Columbia delivers vibrant colors and excellent shadow detail in all lighting conditions. Images are very filmlike. Reminders of video disappear completely. Some slight artifacting in the form of high grain in small sections of white objects creeps onto the DVD, but overall this is another example of the best of DVD. The Dolby Digital 2 Channel Surround is well recorded with crisp dialogue and an open ambiance.



News, information, features about current films in theaters and in the pipeline. Easy to use interface.
---


The DVD Forum is an international association of hardware manufacturers, software firms and other users of Digital Versatile Discs (the "DVD Format"), created for the purpose of exchanging and disseminating ideas and information about the DVD Format and its technical capabilities, improvements and innovations.
---


DVDPlanet is the DVD incarnation of legendary laser retailer Ken Crane's. Deep discounts and serious service.
---


The National Film Preservation Foundation (NFPF) is the nonprofit organization created by the U.S. Congress to save America's film heritage.
---


Information on film sound in theaters and home theaters. Lots of helpful information provided in a handsome interface.
---


A vast reservoir of DVD information, reviews, the kitchen sink. Check out their huge DVD database including reviews from many sites.
---

The Movie Poster Archive include extensive poster images from the films of stars like Susan Hayward, Kirk Douglas, Katharine Hepburn and many more. Our featured star is Robert Mitchum